4 bands in Tour De Compadres to visit Tuscaloosa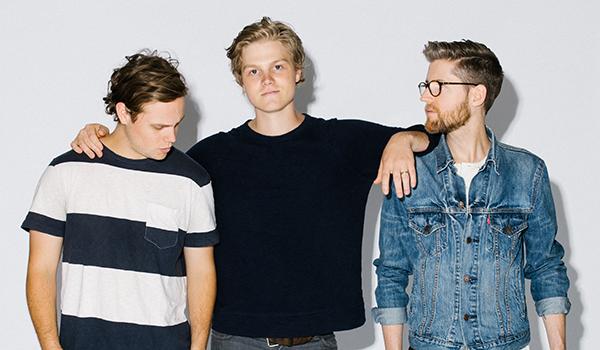 Colony House, Ben Rector, Drew Holcomb and the Neighbors and NEEDTOBREATHE make up the Tour De Compadres, and audiences in Tuscaloosa will be the first to see the group in action.
Supporting NEEDTOBREATHE in their headlining tour, Colony House, a rock 'n' roll band from Franklin, Tennessee, will perform songs from their debut record "When I Was Younger." Brothers Caleb and Will Chapman, on vocals and drums respectively, and guitarist Scott Mills have recently found success with their single "Silhouettes," earning a top spot on SiriusXM Alt Nation. They recently made their television debut on "Late Night with Seth Meyers."
"[Colony House] is still at that stage that if a song of ours comes on the radio while we're driving around Nashville, I turn it up loud," Mills said. "I don't know if that feeling could ever get old. If it does, I should probably start doing 
something else."
Mills said because this is the first show of the Tour De Compadres, Colony House, along with the other acts, will be feeling out what the tour and setup will be like. With ticket sales already over 7,000 for the Tuscaloosa show, Mills said he does not know what it will be like to perform their songs for this many people.
Grammy-nominated headliner NEEDTOBREATHE recently release their first live album "NEEDTOBREATHE: Live from the Woods" and are touring with their chart-topping album "Rivers in the Wasteland." Like Colony House, NEEDTOBREATHE is made up of two brothers, Bear Rinehart on lead vocals, guitar, piano, organ and harmonica and Bo Rinehart on lead guitar, banjo, mandolin and backing vocals. The band also includes Seth Bolt on bass, mandolin and backing vocals and Josh Lovelace on piano and backing vocals.
Lovelace, now in his fifth year with the band, met NEEDTOBREATHE on the road while he was doing shows with other bands. Experiencing NEEDTOBREATHE's music first as a fan, Lovelace said he always appreciated their music's honesty.
"I feel like Bear's voice has become a lot more raw as he's become more comfortable with who he is and what he's saying," he said. "I think that definitely comes across in the last two records, especially with 'Rivers in the Wasteland.'"
NEEDTOBREATHE's most recent visit to Alabama included two shows at the Alabama Theater in Birmingham. Lovelace said the band is excited to come to Tuscaloosa, especially considering Bear and Bo Rinehart are huge Alabama fans.
"Even though it may seem wild at times, we love hearing 'Roll Tide' from the audience; it feels like home and we love it," Lovelace said.
The Tour De Compadres idea had always been something NEEDTOBREATHE has wanted to do, Lovelace said. NEEDTOBREATHE has toured with Ben Rector and Drew Holcomb in the past and has been friends with Colony House for quite some time.
"We couldn't be more excited," Lovelace said. "Not only getting to hear these guys play every night and to get to introduce Colony House to our fans, but also to get to hang out and enjoy each other's 
company for a year."
Lovelace said the production of this tour is going to be bigger than any past shows NEEDTOBREATHE has ever played, including unbelievable lighting and collaboration during their set with the 
accompanying artists.
"It's just going to be a fun night for the fans, and it will be one of those nights where you'll want to take your friends and make an evening out of it," Lovelace said. "[The Tour de Compadres] is about having a good time and loving the people that you're with."
Tickets for Thursday's show can be purchased online through Ticketmaster or at the Tuscaloosa Amphitheater's box office.