Baseball sweeps doubleheader 3-1, 16-5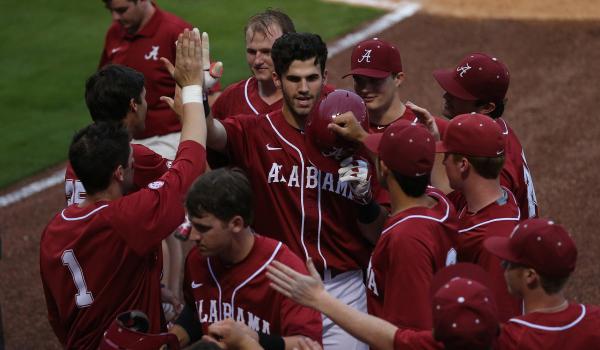 Sophomore Nick Eicholtz started the first game for Alabama and went a career-high seven innings. Eicholtz (3-0) allowed three hits and struck out five in his third start of the season.
"I thought he started pretty clean. He had a rough inning there in about the fourth," Alabama coach Mitch Gaspard said. "I thought his last three innings he was really good. He pounded the strike zone, particularly with his fastball. His velocity stayed 90-92 miles an hour. You could see his confidence kind of build throughout the game."
Juniors Mikey White and Chance Vincent each had two hits while Georgie Salem and Kyle Overstreet contributed one RBI apiece.
Junior Ray Castillo came on in the eighth to pitch the final two innings of the game and earn his fourth save of the season. He did not allow a hit and struck out one in his appearance.
In the second game of the doubleheader, the Crimson Tide jumped to a 7-0 first-inning lead and never looked back. Alabama added three more runs in the second, one in the fourth, three more in the fifth and two in the eighth for good measure.
"It is always good to win and when you can win two in a day, that is even better," Gaspard said. "It was good to get some guys in that haven't had an opportunity to play a lot. Particularly, guys on the mound that hadn't logged many innings for us this year. I thought all those guys came in and did a really nice job for us today."
Eight of Alabama's starters contributed at least an RBI. Four players had two or more hits and the team had four triples in the game. Salem, who had two of the team's triples, went 4-4 with three RBIs and three runs scored. Overstreet also scored three runs in the game.
"The biggest thing was that we came out with injury on Tuesday when we had two games," Salem said. "That is not easy to do after a big weekend you are kind of deflated and there isn't a whole lot of enthusiasm naturally."
Will Carter started the second game of the twin bill and pitched five innings giving up only three runs while 
striking out six batters.
The Crimson Tide finished game two with 14 total hits. Alabama (22-18, 7-11 SEC) heads to Ole Miss (20-20, 8-10 SEC) for a three-game series this weekend.