Student raises money to produce short film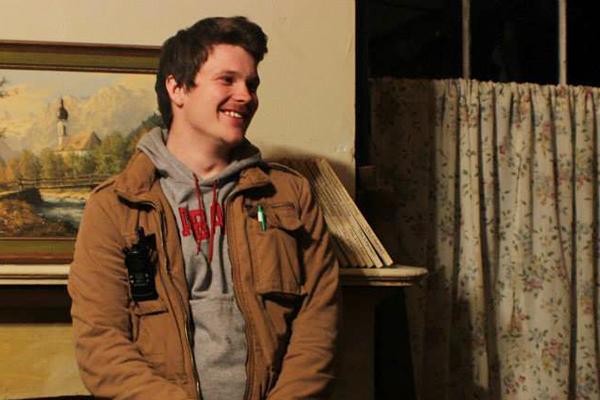 Three years ago, Ryan joined Creative Campus, an arts advocacy student organization on campus, and realized he wanted to become a filmmaker.
"I met a lot of creative people, and being around them and in that environment made me feel like I could do it, and I started making films from then on," Ryan said.
Along with interning at Creative Campus, Ryan helmed the creation of the Black Warrior Film Festival. Ryan said after returning from a trip to Sundance Film Festival with a telecommunication and film class his sophomore year, he and his classmates decided they wanted to put on a student film festival at the University. Ryan was the director of the Black Warrior Film Festival for the festival's first two years.
"Working on Black Warrior has just been really fun and has made me feel like I contributed something to the city and to the school," Ryan said.
Ryan is currently an intern for the Tuscaloosa Arts Council and works at the Bama Theater and Dinah Washington Cultural Arts Center. Throughout his time at the University, Danny has worked on film projects with professors like Nick Corrao. Corrao taught Ryan in his Intro to Production course and is the faculty 
adviser on the "Pride Fighter" project.
Along with being the writer and director of "Pride Fighter," Ryan also has a background in mixed martial arts, and said telling an authentic story is most important to him. "Pride Fighter" follows the story of an amateur mixed martial artist who is rejected by the hyper-masculine, often aggressive, mixed martial arts community when he comes out as gay. The 15-minute short film explores the masculinity of a mixed martial arts fighter and how the MMA community and the sport are regarded.
"I chose to tell a story about a gay person in mixed martial arts because I feel that the LGBTQ+ community is under-represented and oppressed in sports," Ryan said. "It's not your typical sports movie, and I want it to show this world form a different perspective, which is from someone who is rejected from this community. I want people to feel like it's an important story that has to be told."
Corrao and Ryan began preparing for New Orleans Film Festival's Pitch Perfect competition this fall. Corrao said they spent around three weeks breaking the story down into its most basic elements in terms of character, theme and plot in order to sum up the ideas of "Pride Fighter" in a three to five-minute pitch. Ryan ended up winning the competition and then began to further develop "Pride Fighter."
Corrao said selling the perfect pitch is not Ryan's only strength.
"[Ryan] has a great technical understanding of filmmaking as well as a good grounding in the history and aesthetics of film, which are the two major requirements of really approaching film from an informed standpoint," he said.
Lauren Rossi, a senior majoring in telecommunication and film and theater, is producing "Pride Fighter." Rossi met Ryan at a TCF in Los Angeles trip during December of their junior year. Rossi has worked with Ryan on two of their past Campus Movie Fest projects, along with other smaller film projects outside of class.
"[Ryan] is great. He's really professional on set," Rossi said. "When you're about to graduate, it's good to maintain that and practice with everyone before going out into the real world. He's a great writer as well. Just being an open-minded and creative person is what keeps his 
writing genuine."
Corrao and Rossi said they both believe "Pride Fighter" will have a strong life in the film festival world. Support for the project has come from not only friends and family of Ryan, but those outside his community as well.
The film has been a featured pick in the film and video section of Kickstarter and received praise in Outsports, a website that publishes stories on LGBTQ sports topics.
Filming for "Pride Fighter" will begin this month. Ryan said he and his crew hope to have the film finished by June so they can begin submitting it to festivals like Sidewalk Film Festival in Birmingham, New Orleans Film Festival and the ultimate goal – Sundance Film Festival.
"[Ryan]'s story is a total festival film, both storyline and characters wise," Rossi said. "The first step is to make [Pride Fighter] as clean and as put together as possible and enter it at this coming Sundance, 
fingers crossed."
Ryan said he hopes to become a director of independent films, showing his projects at major film festivals and having a lot of people see his work.
"I think [Ryan] can really do whatever he wants to do," Corrao said. "He has the core skills, and he has the enthusiasm and the passion for it. I think anything is possible for his future career, so we'll see."
Ryan's Kickstarter fundraising period will end Friday. As of now, "Pride Fighter" has achieved its minimum funding goal, but Ryan said he and his crew hope to receive more funding support. Those who wish to back this project can on his Kickstarter.