Banking on Beers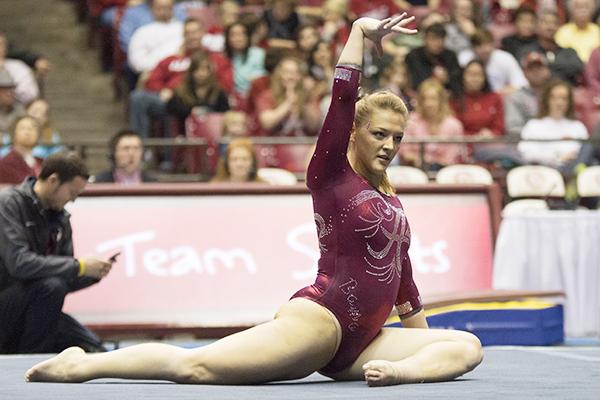 Lauren Beers is no stranger to teamwork.
Growing up, her family could have occupied every fielding position on a baseball diamond, competed as a basketball team with members to spare and made up half of the lineup of the Alabama gymnastics team. Beers, a Warren Center, Pennsylvania, native, is the oldest of seven siblings, a family dynamic that has shaped her role as a leader on the team into a nurturing, mothering figure.
"The fact that she's the oldest of seven, she's always been a mama bear in her own home because when you're one of seven and the oldest, you have responsibilities, and it's that first born thing," said coach Dana Duckworth, who coined the term "Mama Bear" as a description of the junior athlete. "She has a very unique way of leading. She's more of a quiet leader. I wouldn't call her as vocal as some others, but she just is a very caring, loving and nurturing woman, and it carries over in her leadership on the team."
As the Crimson Tide prepares to compete in the Auburn NCAA Regional on Saturday, Beers will have been inducted into the XXXI female honor society, celebrated her 21st birthday, been awarded All-SEC Honors and given Regular Season All-American honors – first team all-around and second team on uneven bars and floor exercise – in her junior year competing in the sport that first caught her eye when she was 6 years old.
Beers' first memories of gymnastics are what she saw on TV during the 2000 Olympics.
"I thought it was really cool that they could flip," she said. "I just remember sitting there watching the TV and being like, 'Oh, I want to do that,' so I think it was just the whole aspect of it – just the competing, and the leotards probably at that age."
Beers' mother Patricia enrolled her in recreation gymnastics classes, and immediately it was evident that Beers had an inherent talent for the sport that first captivated her from the games in Sydney, Australia. After six months, Beers had joined the team at her gym. She then spent a year at levels four and five, before escalating through levels six through nine in one year and preparing for elite gymnastics.
"She just had a natural talent and flourished from there," Patricia said. "Within a year they put her on the team, within two years we were moving on to a different club to get her the best coaching she could get. She had her own goals and aspirations, and worked very hard for them."
From ages 12 to 15, Beers focused on making the national team, but around age 16, she switched her attention to collegiate gymnastics. Though former Alabama gymnastics coach Sarah Patterson had trained under Beers' coach Daile Van Patten, she knew little about the Alabama program or collegiate gymnastics as a whole. After visits, Beers and her family decided that the SEC was the right conference for her, and the athlete ultimately settled on Alabama after experiencing the team.
"Everybody was just saying the team over and over again," Beers said of the advice she was given when making her decision. "Make sure you like the team. Even if those girls aren't necessarily going to be there when you're there, they're going to recruit the same kinds of people into the program. When I came, last year's senior class was freshman, and just getting to meet them and hang out with them was really cool."
During her freshman year at the University, Beers lived with teammate Carley Sims, who said she knew right away that Beers would one day make an excellent leader to the Crimson Tide and friend to its gymnasts.
"She's so strong, like she helped me so much, so I knew within the team that she would be a great person to look up to and help lead this team," Sims said. "She was like the more responsible one and orderly and on it, and I was kind of like the more in my own world thing. She kept me on track, so I was so fortunate to have her, especially in my freshman year."
Currently in her third year at the University, Beers has broken into the all-around competition and come into her own identity as a gymnast and guiding force on the team.
"When we recruited Lauren way back when, we knew how talented she was, and you could just see the power and the strength and the mental toughness she had, so for her to be able to mature into a young woman and hone in on those skills, I think it's great," Duckworth said. "She has an incredible work ethic. Sometimes her perfectionism can actually be her worst enemy, versus let it flow, don't try. Let things happen, and we've been working on all that. I just enjoy having her on our team and a part of our program being the Lauren she is."
That perfectionism taught Beers a valuable lesson in this year's meet against then No. 2-ranked LSU who ultimately handed Alabama its first home loss in six years. She had a night uncharacteristic of her usual performance, but with her team's support she was able to learn from the experience and move forward.
"I was just off that night, it wasn't really a specific thing," she said. "By the end of the meet I realized I was just trying too hard the whole night. I was trying to overcompensate and so I realized that just going out there no matter how my warmups went, no matter how my practice had been, I just need to go out there and be free and do my gymnastics for my team and not try too hard and just let it happen. From that point on, I think I've done a really good job of that."
This weekend, Beers and the Crimson Tide will compete in Auburn for the 2015 NCAA Regional, boasting an NCAA-best 29 region titles. The team will take the floor on Saturday at 6 p.m. as the No. 1 seed against No. 2 seed Auburn, No. 3 seed Minnesota, as well as Iowa, Maryland and George Washington. The top two teams from the meet will advance to the national championship, where Alabama has appeared for 32 years in a row.
"It's the meet that gets you to the national championship, so no matter who you're competing against, you need to be in the top two," Duckworth said. "Anyone can show up at regionals and it be their day, so we plan to make it Alabama's day."