Muslim women find place at University of Alabama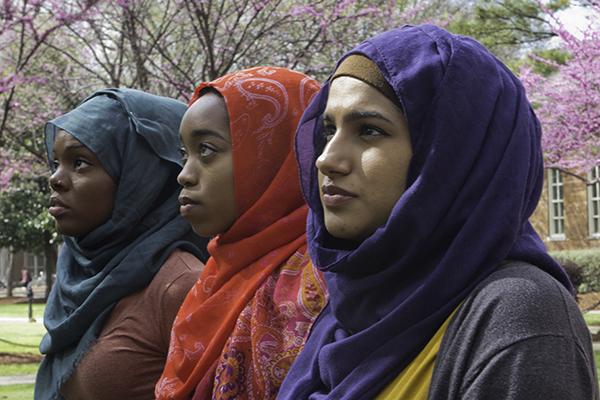 Walking past Old Row her freshman year, Sahar Ezez, a junior majoring in philosophy and history, began to feel uneasy. It was 9 p.m., and as she was making her way towards her car, she noticed 20 or 30 men standing on the roof of a fraternity. 
"As soon as I walked past them, they started throwing beer at me and they started shouting, 'Go back to where you came from,'" Ezez said. "I eventually got to my car and I was shaking because I was terrified that they would come after me."
Ezez started wearing the hijab, a head covering worn in public by some Muslim women, a month prior to coming to The University of Alabama. She said she did not tell her parents about the incident because they were already worried about her wearing the hijab in the first place. 
After the altercation, Ezez's political science professor, Dana Patton, urged her to report the incident to judicial affairs. However, Ezez said she was afraid reporting the incident would make her an even bigger target. 
Instead, she joined forces with the Muslim Student Association and University Programs to create an event that brought together students of all religious backgrounds and ethnicities. A year later, Ezez joined Crossroads, an organization that helps sustain dialogue between students who come from different cultures. 
"Sahar served as one of the interfaith panelists to share about the Muslim tradition of caring for those in need," director Lane McLelland said. "She did not share her story with me of being harassed until the following school year."
Since its inception, Crossroads has increased from 30 students to nearly 80 students. McLelland has become an ally for Ezez, who said McLelland is not only willing to provide students help on an institutional level, but on a personal level as well. 
One day in fall 2014, Ezez said a group of people followed her to her car, shouting slurs and then driving away. When the same group followed her to Midtown Village, Ezez said she knew she needed to take action.
"When it was two or three times, and then in Midtown, that freaked me out," Ezez said. "It was the fact that they were going that far that made me go to Lane [McLelland] and tell her that I felt my personal safety is in jeopardy. Lane sent me to the Dean of Students, and I was able to talk to him about our concerns on campus and he got more police cars out there."
Nakia Moore, a sophomore majoring in business, grew up under two different faiths; Moore's mother is a Jehovah's Witness and her father is Muslim. Moore said when she began wearing the hijab in high school, she quickly found out who her friends were. 
"I'm a representative of my religion," Moore said. "There are not that many people that can be that for their religion and I'm trying my best to be that and let them know what really is and what really isn't."
Aaliyah Furqan, a sophomore majoring in international relations, classifies herself as a first generation African American Muslim. Furqan said she has not faced any religious discrimination at the University since arriving and only falls under speculation when students ask if she is cold or has just gotten her hair done. 
She said she began wearing the hijab at a younger age than most girls. Furqan did not wear the hijab in middle school, but she said by high school she felt ready to wear it again, and when she did her peers were very accepting. Recently, Furqan attended a dinner hosted by Phi Mu, which allowed the women of the Muslim community to speak openly about their religion and experiences.
 "They were just curious and they just wanted to ask questions,"  Furqan said. "This was probably the smartest thing I've ever seen as far as Islam and the outsiders' approach to it. Usually people just have no idea and Google can't even help them."
Many Muslim women have said they have felt unwelcome by the MSA because the organization consists of mostly men. Ezez said she wants to start a program with the MSA that caters particularly to Muslim women. Furqan said it's not only the matter of the men being in power in the MSA, but the language barrier itself makes it more difficult to connect to the women in the MSA. 
The MSA has begun branching out to different groups on campus, such as the Saudi Student Association, the South-Asian Student Association and the Arabic Student Association. While Phi Mu has made a connection with the women, Ezez said she wants to know whether the fraternities will extend the same invitation. 
"All of our Greek organizations regularly participate in educational programming that focuses on inclusivity and the importance of creating and sustaining a welcoming campus," said Kathleen Gillan, Director of Sorority and Fraternity Life. "Both fraternities and sororities host events that include a variety of different groups and student organizations. The safety of all our students is a top priority at UA. While we hope that all students feel safe in our community, we encourage any student who feels threatened or harassed for any reason to refer to the UAct website to determine the best reporting channel."
Alex Coogan, President of the Alabama Interfraternity Council, said there is always work to be done to educate students about different religions, ethnicities, cultures and backgrounds. The IFC, in collaboration with the Alabama Panhellenic Association, Alabama United Greek Council and Alabama National Pan-Hellenic Council, sponsors many events with student organizations. 
Coogan said he encourages student organizations that would like to partner with the community, or individual chapters, to reach out to them and join them at an IFC meeting. 
Ezez, Furqan and Moore said there is much room for improvement, but the important thing is to stop viewing Muslim women as oppressed.
"I do think the stereotype is that women who wear the hijab are oppressed," Moore said. "It's ironic because [for] most of the women, it's their choice to wear the hijab. It was my choice."