Rowing splits four against JSU on senior day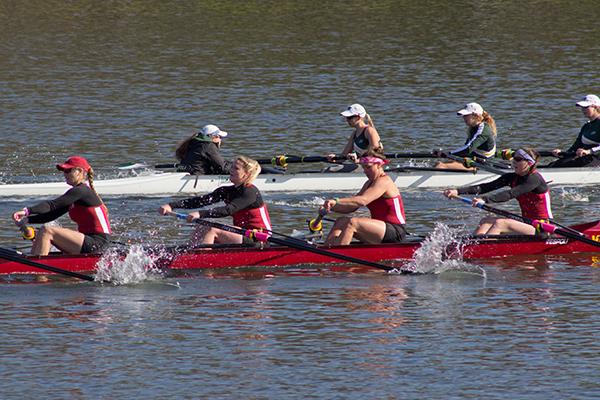 "They probably don't realize it yet, but it's something where they have been a big contributor," coach Larry Davis said of his senior athletes. "Any time you have 12 people who are getting ready to leave and they have been here for the duration, they obviously have a big impact. They had to be patient – there's a lot of them who probably never thought that we would quite get to the point of having a boathouse on campus – and through their perseverance and continuing to do things to build the program, they continued to do that and they've been a big contributing factor for us being able to reach the level we are now."
The Crimson Tide fell in its first race of the day, finishing behind Jacksonville by three seconds in the 1V8 race. Senior Maureen Purcell said despite losing the race, the team still hosted a successful regatta.
"It was a great race overall," she said. "I mean, the results weren't what we wanted, but everyone else did a great job and it was just a really successful day and a great 
opportunity also to show off our 
new facilities."
In the 2V8 race, the Crimson Tide rebounded to beat Jacksonville by nearly 16 seconds, with a time of 7:17.4. Alabama's four boats in the Varsity 4 took the top four spots of the race, with the Crimson Tide's first boat notching a time of 7:57.5. To conclude the day, the team fell in 
the Novice 8.
"Overall I think we did really well," Davis said. "There's a few things on a couple of our crews that we need to get a little better at. I think a couple of the groups really nailed it well. I think our Varsity 4 and our Second Varsity 8s really nailed it down today. They executed the way we have been planning on doing it, and they just put it together all in one good race. I think a couple of the other crews have some things that we can polish, that we're close to where we want to be but not quite there yet."
Senior Melissa Etter said the team has been a big part of her college career, and its growth from her freshman year until now serves as a promising sign for the remainder of the season and the future of 
the program.
"I can honestly say Alabama 
rowing has really made my four years 
of college really special," she said. "I was a walk on when I joined this team, and watching the program not only grow in terms of facility and size but also as a team has been really rewarding. We have a lot of great people on this team that have really meant a lot to me over the last 
four years."