Dance, math unite for Interstellar Responses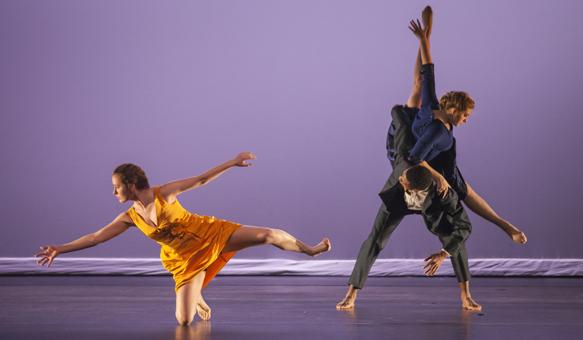 A choreographer, a musician and 16 dancers at the University integrated their artistic expressions with 13 mathematical constants to create a performance 
combining ideas that don't often meet.
Combining the ends of the math and arts worlds isn't so different for Brianna Milner, a junior majoring in dance and chemical engineering, who said the final result of the collaboration is a dance 
spectacle unlike any other.
Milner, along with 15 other dancers, will perform in Interstellar Responses, the contemporary performance choreographed by Professor Rebecca Salzer to music composed by Professor 
Amir Zaheri.
Zaheri composed 13 responses that each has its basis in a mathematical constant. Salzer and her students then began choreographing one-minute dances for each response, incorporating movements of everyday life into their 
individual pieces.
"It was very collaborative with the dancers," Salzer said. "I gave them homework that involved looking at movements that they did in their daily lives and bringing them to the studio where we abstracted and altered those movements to make each one minute response."
Milner's response was designed to reflect Plank's constant.
"With my movements, [Salzer] challenged me to think about moving in certain energy states and only moving in between by jumping from one state to another," Milner said. "It was really abstract at first, but once you get into the movements, it's easy to creatively throw things in."
Salzer has been rehearsing with the dancers for around three days a week in order to bring this show to life. In February, the dancers performed an eight-minute excerpt at the Alabama Dance Repertory Theatre performance. Zaheri said the performance was well-received; both students and faculty were 
very enthusiastic.
George Berry, a junior majoring in dance, said the process of assembling the performance was much different from others he has been a part of.
"It took pretty much the first whole month for everyone to create their solo," Berry said. "After that, it was a matter of putting them all together."
A major challenge for the performers has been designing the dances to fit the space. The Dinah Washington Cultural Arts Center, which is not the usual dance facility, will house Interstellar Responses.
Berry said he is anxious to see the audience's reaction to this 
unconventional performance.
"The audience is part of the dance experience," Berry said. "They're not just sitting in seats, relaxing and sleeping. They're right next to the dancers. It's more like moving art than dance."
Alexandra Mannings, a freshman majoring in dance and physics, said she hopes the audience sees the collaboration of their art with music and dance as well as how an idea can become so much more.
Salzer said she recognizes that not many will understand the mathematical concepts being portrayed but that audiences will still find deeper meaning in these dances.
"I think that the audience will find a point of entry through the movement and the sound that they can connect with," Salzar said. They will connect with the humanness at some level of recognition."
Interstellar Responses will be held at 7:30 p.m. on Saturday and Sunday in the Dinah Washington Cultural Arts Center.