Honors week offers recognition for students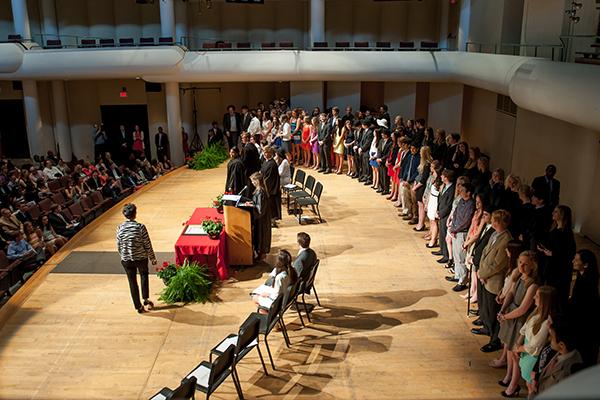 For many students, those all-nighters spent ensuring their GPAs stay in tip-top shape will pay off this week.
Honors Week, a long-standing UA tradition, takes place during the first week of April. Throughout the week, individual colleges and honor societies present students with awards and scholarships, commending them on both academic and 
service achievements.
"There's no real central authority for Honors Week," said Kirk Walter, coordinator of this year's Honors Week. "It's simply the week where the schools, colleges, honor societies and everybody else get together to honor students and 
their achievements."
One of the first events this week is the Iota Iota Iota induction ceremony and reception Tuesday in the Alston Hall parlor. Also known as Triota, the honor society is an international women's studies honor society that focuses on the promotion of scholarship and excellence related to gender and women's studies.
Elle Shaaban-Magaña, director of the University of Alabama Women and Gender Resource Center, is helping orchestrate the Triota event. Shaaban-Magaña said this honor society celebrates students who have an interest in gender and women's studies as well as interests in scholarship, research and social justice initiatives.
"We will be inducting our new members and recognizing and talking about their research interests and some of the service projects they have worked on," she said. "Many of our inductees will have committed many more hours than just the required amount of six."
On the following Wednesday, the Randall Outstanding Undergraduate Research Awards Luncheon will be held at the University Club. This luncheon will recognize research done by students who have been nominated by faculty advisors for their work.
Jane Batson, program manager for the Computer-Based Honors Program, is involved with making this event possible. She said they will recognize 31 students at the luncheon for their research, which is the most they have ever had for this award.
"The recipients who are recognized are across all disciplines," she said. "This year we've had the most nominations we've ever had across the board because we have so many more students who are doing research on campus."
The Culverhouse College of Commerce and Business Administration Management Honors Day Program will be held on Friday at the Hotel Capstone. Along with recognizing individual students in the college who have a GPA of 4.0 or higher, scholarships like the Betty H. Loomis Endowed Scholarship and the Blue Cross Blue Shield Scholarship will be awarded. Jan Moyer is helping to organize this year's Honors 
Day event.
"I think Honors Week is a great way to recognize students that are excelling in the program," she said. "It also gives the faculty a chance to talk to the student's family and let them know how well their child 
is doing."
One of the hallmark Honors Week events is the Tapping on the Mound this Friday. Tapping on the Mound is an annual event that includes the tappings for the four premier senior honor societies: Anderson Society, Blue Key, Mortar Board and Omicron Delta Kappa. At this event, premier award winners are recognized for their achievements. Kirk Walter is working with the Coordinating Council for Honor Societies to run this event.
Honors Week concludes with a day off of classes on Friday. Batson said this week celebrates not only academic achievement but also students who are excelling at service. She said she believes Honors Week sets a good example for underclassmen to see what older students are accomplishing and to work for it themselves.