Chinese study abroad program provides language, culture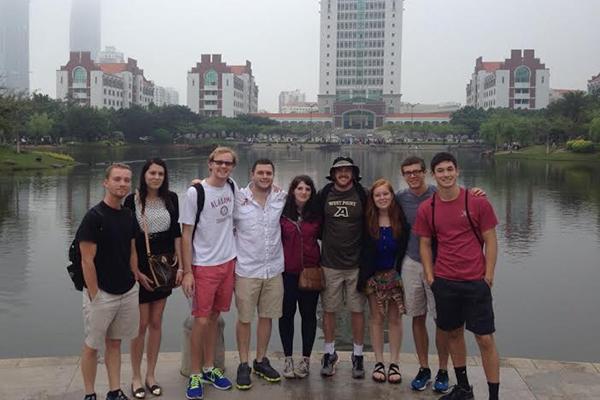 The UA study abroad language and culture program in China is one of many international programs the University offers through its study abroad program. Xiang Zhang, the director of the program, leads a select group of students on a five-week trip that includes visits to Beijing 
and Shanghai.
Students study at Xiamen University, located in the coastal city of Xiamen. A typical week includes roughly 25 hours of Chinese language study. In addition, students embark on cultural journeys such as trips to the Great Wall and the Forbidden City in Beijing.
When asked about the biggest difficulty students face when traveling to China, Zhang said it is that many students have not embarked on such a foreign journey. She said traveling to China is truly an experience that most UA students are not accustomed to and it can often induce culture shock. Ultimately, she said, these new experiences can be beneficial.
"After five weeks, they have more confidence in their eyes," she said.
Students are housed in dorm-style rooms for the majority of the trip. Their living quarters are located near the beaches of Xiamen, which is a popular spot for students to socialize with locals.
Zhang said overseas learning experiences such as this bolster the knowledge students taking Chinese courses at the University already have.
"On campus you learn knowledge," she said. "In China you learn 
about life."
Students have the opportunity to spend time with local Chinese 
families in Xiamen, where they practice Chinese and get a glimpse of daily Chinese life. Zhang said the Chinese families were very impressed by the students and their politeness. Zhang said the climate in China during the summer is very similar to that 
of Tuscaloosa.
A typical day of studies at Xiamen University begins at 9 a.m. Students have a break at noon and resume classes from 1 p.m. until 3 p.m. After completing the 5-week course, students earn between six and seven credits. Zhang said students do not need prior knowledge of the Chinese language to take part in the program.
Tyler Hsin, a sophomore majoring in mechanical engineering, took part in the program during the summer 
of 2014.
"The trip was great. It pushed me out of my comfort zone by forcing me to use my foreign language skills in a variety of situations," he said. "Also, our study abroad group became a tight-knit group that was fun to travel around with."
Students who wish to apply for the UA in China experience can apply online on the studyabroad.ua.edu website. Click on the program search link, and type in "UA in China: Language & Culture." A minimum GPA of 2.2 is required and the group will depart for China on May 19.