Gymnastics team wins 2nd straight SEC title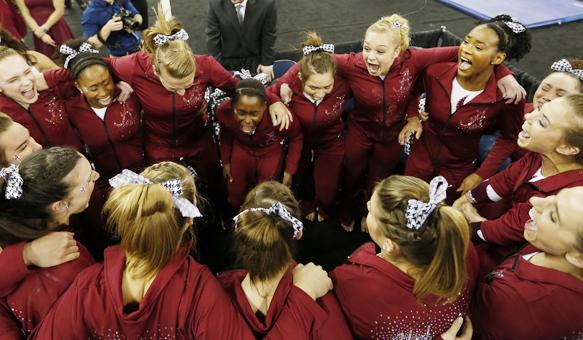 After trailing for two rotations, the No. 5 Alabama gymnastics team claimed its ninth SEC championship with a score of 197.525, topping LSU, Florida and Auburn in the second session of the championship meet Saturday.
Since 2010, the Crimson Tide has claimed four SEC championships, including the 2014 title. This year's win, though, came on the heels of a new era of Alabama gymnastics after coach Dana Duckworth took the reins of the Crimson Tide program in July 2015 from longtime coach Sarah Patterson.
"I am so proud of this senior class, I'm so proud of these women who just kept fighting," Duckworth said. "You know, all week we talked about being task warriors, focusing on the task not the outcome, and just basically plugging away one moment at a time. If there was a mistake, the next moment was more important, and that's exactly what they did tonight. It allowed us to put four events together, it allowed us to build on one another, we had some good things, we had some up and down things, but at the same time, we never stopped fighting. So, we will take these lessons into the championship season and cannot wait to continue to move forward."
Keely McNeer opened the meet for Alabama with a 9.900 on the balance beam. Led by McNeer and Kaitlyn Clark, the Crimson Tide posted a 49.275 on the event but trailed defending co-national champion Florida and LSU after the first rotation. In its second rotation of the meet, Alabama posted a 49.475 on the floor exercise, led by a 9.950 from Carley Sims. Though the team gained ground, it still fell short of the Gators heading into the third rotation of the night.
After tying its season-high score on vault with a 49.500, Alabama edged the Gators, who suffered from two beam falls and finished in the third spot after the third rotation. LSU finished the rotation in the 
second slot. Alabama finished the meet with a 197.525, followed by LSU with a 197.450. Florida finished third with a 197.400, while Auburn rounded out the four teams competing in the championship's second 
session with a 196.925.
"Tonight was just showing how much hard work we've put in this season," said Lauren Beers, who finished the all-around competition with a 39.500. "We just wanted to stay in our 'Bama bubble,' and I think we did a great job of that tonight. Dana was just telling us to take it one routine at a time, the next moment is the most important, so we just went out there and tried to focus on ourselves and it really paid off."
McNeer was the leading gymnast on three of the night's events and was awarded All-SEC honors for her performance on beam, where she scored a 9.90. Her impact on the night, Duckworth said, could 
not be understated.
"The leadoff routine in any meet is key," Duckworth said. "It sets the state, it sets the moment and it sets the tone. Right before bars she goes, 'Let's get this going.' It was like she was ready and eager, and I just couldn't be more excited for her. That's a key role."
Clark was also awarded All-SEC honors on two events, vault and balance beam, but her achievement, she said, means more to her in a team context rather than as an award for personal success.
"It's really exciting just to know that I was able to get the best score for my team tonight to help us get the championship," she said. "Just the team atmosphere we have and 'one heart, one team' we have this year is so amazing to compete with."