Mainz Mania: UA women's tennis coach enters nineteenth season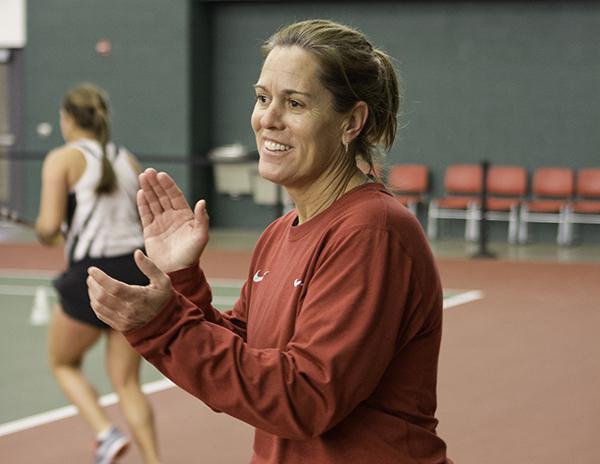 Through it all, Jenny Mainz has been a lone constant in the changing tide of Alabama Athletics. Now leading the Alabama women's tennis team in her 19th season, Mainz has taken the 
program to new heights. In the 2014 season, the team claimed its first SEC championship, as well as its first national championship win with a doubles title secured by Erin Routliffe and 
Maya Jansen.
Things weren't always easy for Mainz, who left a coaching position at Iowa to take the reins of the Alabama program. She took the position to challenge herself, she said, and see if she could coach in the SEC, a powerhouse in women's tennis. Despite the instability that often comes with a change in coaching, she believed she had a solid team to help her make the journey south.
Things changed when several players either left the team or were sidelined due to injury after she arrived in June 1997.
"When I walked in when I interviewed for the job, I thought, 'Gosh, this could be a top-20 team,'" Mainz said. "Then everything sort of unraveled, but that's life."
To field a team, Mainz was forced to visit sororities and physical education classes in a search for potential athletes. Though she was able to make a team with four scholarship players and four walk-ons, the lack of experience was insurmountable. In her first season at the University, Mainz and her team finished the season 0-21. In her first three seasons, the women's tennis team was 0-36 in conference play, and her struggle wasn't unnoticed.
"After year three, [then-athletic director] Mal Moore called me in and said, 'You know, I like you, but you gotta win, and you gotta win in the conference,'" she said. "And by the grace of God, it happened."
Through all of the struggles in her first years with the program, Mainz stuck to her coaching philosophies that have molded the program into its current form. She stopped talking about winning, she said, and began measuring success by continuing to do things the right way as she built the program from the ground up, brick by brick.
"I'm a big believer in if you're doing all the little things right, all the little details, and you work hard, good things are going to happen," she said. "I absolutely believe that with every thread in my body. It doesn't always mean that things turn out the way you want them to and it doesn't always guarantee that you're going to have success, but you define your own success."
Success in its most traditional sense finally came for Mainz and the program in the form of a pair of running shoes in a match against Mississippi State in her fourth year at the University.
Prior to the first conference match of her fourth year as head coach, Mainz, nervous about her future with the program, went to lunch with her then-assistant Dave Anderton. While there, Anderton made a simple gesture that carried a deeper meaning to the young head coach.
"He goes, 'Boss, when we win tomorrow, I'm going to have my running shoes by the door, and as soon as we win I'm getting those running shoes and I'm going on a run,'" Mainz said.
After a 6-1 victory over the Bulldogs, Anderton went for a run, and Mainz solidified herself as the coach for the Crimson Tide.
Changing the Tide
The story behind the running shoes is one Mainz still shares with her team today. The assurance her assistant coach gave her, she said, is synonymous with the culture she tries to create in her locker room. The emphasis, she said, is never on a single person but on a team atmosphere where each athlete is expected to be the best teammate they can be. If the simple things are done correctly and that positive team atmosphere is sustained, the wins will come.
"Even if we were really, really good, but we were not together as a team, I wouldn't be happy and it would not be the place for me," Mainz said. "I really believe that it's team, team, team."
Mainz said her coaching style stems not only from her experiences in her first few years at the University, but also from her upbringing and careers as an athlete. She was raised in a team environment around people who truly cared about not only her talent, but also her life beyond athletics, something she now provides for her team as they compete in their college years.
"I think about how I grew up and the people that had the most influence on me, and they were people that I know genuinely cared about me as a person," she said. "Sure they cared about my tennis, but they wanted an emotional connection. They wanted to get to know me as a person. They wanted to know that if I was struggling, they would be able to tell and help me and lend an ear. I'm very much that way."
Senior captain Emily Zabor said throughout her time at the University, Mainz has been incredibly successful in creating a positive environment for her players. She truly cares about her players, Zabor said, and takes an interest in their lives beyond the tennis court, from school to friends to occasionally vetting potential suitors for her athletes.
"She is definitely there to challenge us, but more importantly is there to love us and encourage us, because at the end of the day, we are people and tennis isn't the only thing we're defined by," Zabor said. "We have a very personal relationship and I think that's very important on small team because everyone is counted on and everyone is important."
Entering her final season as an Alabama athlete, Zabor said the most important thing she has learned from her coach is just how influential a positive attitude can be.
"She is just such a positive influence on my life and a huge reason in why I came to [the University]," she said. "She just really truly cares about her players and the support system from trainers to janitors and honestly everyone who comes in contact with her feels appreciated by her. You can do a job of being a tennis coach, but when it becomes a love for a game and a love for people is really when cool things happen."
"Success sometimes does things to people, so I try to be very mindful every day to be very appreciative for the opportunities, to be very grateful for the support we have, to definitely give back and to treat everyone with respect," Mainz said. "At the end of the day, in tennis, there are teams that are better and players that are better and that win, but in life that's not how that works."
Dean of Coaches
After longtime gymnastics coach Sarah Patterson retired in July, Mainz took the role of Dean of Coaches at the University.
Mainz said Patterson, who served as the head gymnastics coach for 36 years, was a constant source of encouragement in her early years at the University. Still in her early years as a coach herself, Patterson said she attempted to make things as smooth as possible for the then-new tennis coach.
"We have not always had many woman head coaches, so for me having Jenny join our staff was a huge addition," Patterson said. "I knew this was a challenging undertaking for Jenny and that she would need people to lean on during the transition and as she built her own program. I always tried to encourage Jenny as well as our other coaches through notes, quotes and just being at any event I could which is difficult because of conflicting schedules. Sometimes it just means a lot to hear from another coach when one of your athletes sustains an injury or your team is trying to overcome adversity."
Now the longest-tenured coach at the University, Mainz said she tries to repay the loyalty and support she was given in her first years with the tennis program. This loyalty, Patterson said, is a trademark of the tennis coach from Texas who has taken the Alabama women's tennis team to new heights.
"The most remarkable part of Jenny's career is that there were some years of struggle, and some coaches might have left for a different opportunity and started over," Patterson said. "Jenny weathered the storm, built her team into champions and is enjoying the success that her hard work in all areas is responsible for. I was so proud of her when they won their first SEC Championship. That is an amazing accomplishment in our conference, and she earned her championship ring for sure. Jenny now has our program on the national stage – a goal of all our coaches here at Alabama. I was honored to have worked with Jenny."