The Box provides students with campus storytelling opportunities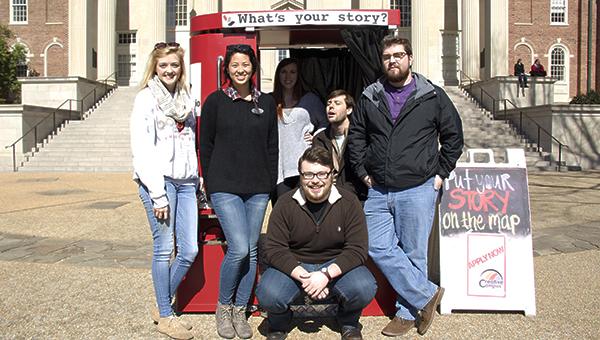 Traveling across campus, the Box has been a source of curiosity and mystery for UA students. Stepping inside the Box, a retrofitted photo booth, students are greeted with a recorder and a place to share their memories of campus. The Box is both a marketing and collection tool for Creative Campus's new website Retrospective.
Retrospective is an interactive look at campus through the multimedia lens of audio recordings and geotagged stories. The website is designed to show how 
campus evolves and changes over time.
"I've always been interested in the idea of how coincidental [it is that] there are so many stories intersecting at one place. Retrospective is a way to ground that in something tangible," said Jordan Sandy, one of the students working 
on Retrospective.
Sandy, a sophomore majoring in economics and English, said the idea for the website began when Creative Campus wanted to find a way to connect people to Tuscaloosa and its history.
"We're going to have a Google map with the stories tagged on the website, so you can see campus and see what happened at all these different places," he said.
Sandy said Creative Campus heard about the Box through the Digital Media Center and saw it as an engaging way to bridge the gap between students and 
campus occurrences.
"It's simultaneously a place where people can record stories but also a marketing tool because people see it and are like, 'What's that? I want to participate in that,'" he said.
Abigail Ratliff, a sophomore majoring in marketing, said she joined the Retrospective team after helping out at one of the Box events.
"I'm a big fan of story telling," Ratliff said. "I kinda have a big mouth, so I love telling stories and I love hearing stories. I really like human interest kind of stuff."
When collecting stories, Creative Campus asks people to state their name, their relation to the University, where the story occurred and when it happened. The stories are then placed on a campus map.
So far, Creative Campus has collected around 45 stories. When collecting, Sandy said they look for both inspiring, funny memories and sad, revealing stories. The project is also highlighting topics on campus that haven't been explored in the past.
"It can be your friend getting engaged on the steps of Denny Chimes," Sandy said. "We've also had some that were a lot darker. We had one girl who witnessed the Copper Top shooting a few years back. It was this very revelatory moment for her because she decided she wanted to help people and be a nursing major."
Moira Quinn, who also helped at the Box events, said she was a little nervous because it took her a little while to think of a story to share. Quinn, a sophomore majoring in marketing, said people were more curious and excited than anxious to tell their story.
"I think people just wanted to know what it was, because obviously it's pretty weird looking," she said. "When people thought of a story, they were excited 
to tell it."
The goal of the project is to continually collect stories and update the website, so people will constantly have something new to discover. Sandy said he hopes to see the website launch by the end of March. As the website is updated, students will be able to see the shifting perspective of campus.
"There's no reason we should stop this after a month or two," he said. "We want it to evolve as campus evolves and as the people evolve."
Anyone with a story can call and record their story via Retrospective's Google Voice at 530-8383.