No. 6 Alabama gymnastics hosts No. 11 Auburn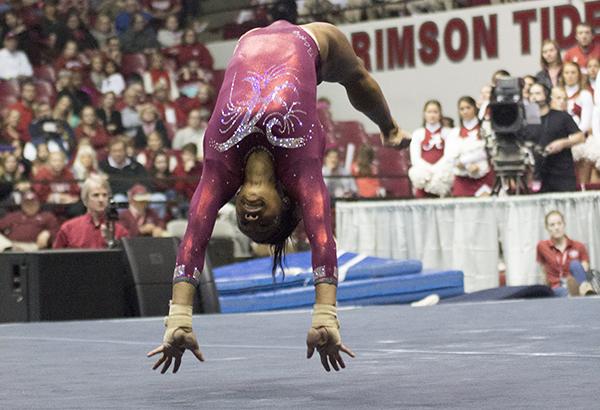 It's been 110 meets since Auburn has beaten The University of Alabama 
gymnastics team.
It's been 35 years since the Tigers defeated the Crimson Tide in a meet, but don't expect the Alabama gymnasts to take notice.
No. 6 Alabama hosts No. 11 Auburn in Coleman Coliseum this Friday at 7 p.m. for the next chapter of a rivalry that has been lopsided over the last few decades. Despite the hype, Alabama coach Dana Duckworth said her team isn't talking about maintaining the 110-meet streak, but focusing instead on making weekly improvements.
"I think the reality is that everyone is going to want to talk about the streak, but to me, talking about the streak is talking about the outcome," she said. "The expectation of everyone is that we have to win and we have to beat Auburn. I can guarantee you if that's what we focus on, we will fail. It's another meet, and this week is about Alabama gymnastics doing all those little things to move forward, and we are doing it incrementally."
For senior Lora Leigh Frost and junior Carley Sims, the rivalry isn't something the team looks to focus on, it is something they have grown up with.
Frost, a Decatur native, said she has been attending Alabama gymnastics matches since she was 10 years old and has always supported the Crimson Tide, despite the fact that her father was an Auburn fan.
"When you're born, you're expected to wear an Alabama onesie or an Auburn onesie, so it really starts from day one," she said.
A long-time fan, Frost said she never thought she'd get a chance to compete for the Crimson Tide, and focused instead on attending a Northern school before turning down a scholarship offer to walk on at the Capstone.
"I remember [associate head coach] Bryan Raschilla giving me a call and saying that I was going to be able to walk on," she said. "That's the moment where you realize that all your dreams come true. I was one of those little girls in the stands at one time and now I'm going to be able to look up in the stands and say I made it."
Sims, from Birmingham, was raised an Alabama fan as well and also began attending meets as a small child. What she saw, she said, helped her make up her mind at an early age. She was going to compete at Alabama.
"I came here when I was 10 years old and watched Ashley Miles on the floor, and ever since then I told my mom, 'I'm coming to Alabama, you won't have to pay for a thing,'" she said. "And I worked 
to get here."
Sims now captivates audiences with a floor routine of her own, winning the top-title on the apparatus in last week's road victory over Kentucky. Her routine, set to a blend of modern hip-hop and pop songs, has been a crowd favorite this season. Despite her successes, Sims said she often stops to think about where she is today.
"Ten years ago, I was just like, 'Wow, it's a dream,' and now I'm here," she said. "It's so exciting and I'm glad to be with a great team like mine."
Regardless of what side of the rivalry fans may fall, Duckworth said many often come together to support the Alabama gymnastics team due to the reputation it has built on campus and in 
the community.
"We have a lot of people who are huge Auburn fans, with the exception of Alabama gymnastics," she said. "They pull for Alabama gymnastics, and that's our tradition. That's our culture. We have a great program. We have great 
philosophies, a great history, and anybody—no matter what team you pull for—you can't lose sight of the fact that our ladies are incredible role models in the classroom. They're incredible role models in 
the arena."
Having been with the program for 20 years before becoming head coach, Duckworth is no stranger to the rivalry between the two in-state teams, though she said it's something she has come to understand more as her time with the University grows.
"As an athlete, during those first four years, honestly, I understood the rivalry but I didn't really understand the rivalry," she said. "And then when you're around it and you see in all sports, it's like, 'This is important, you need to do this.'"
Duckworth said as part of the gymnastics culture, she enjoys seeing successful teams and seeing them strengthen the quality of the sport, but would like to see the Alabama winning streak continue.
"That team, over there, they've gotten better," she said. "They have better athletes and they have a great coaching staff. They're getting better. I hope it's going to be a long time until the day comes that they beat The University of Alabama. At the end of the day, we have to do our job."