Gymnastics travels to Arkansas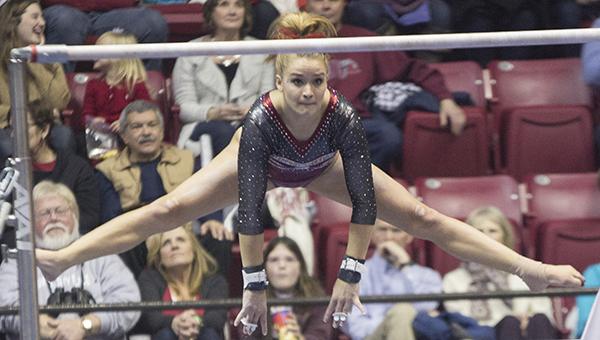 A 20-year veteran of the program, Duckworth said her familiarity with the Arkansas facilities will play to her advantage as she leads her team out of Coleman Coliseum for the first time this season.
"I know the arena," she said. "I know what it feels like to be in that arena, so that gives me a leg up. It's not like I'm going to a brand new place. I know what the locker room looks like. I know where we're going to stay, where we're going to eat and what our team is going to do. Some of that is nice because 
it's familiar."
The Crimson Tide won its first meet under Duckworth, topping Arizona 196.225-194.375. Though the team performed well, first-meet jitters were present before the team finished with strong performances on beam and floor. Duckworth said she expects some of these jitters will be present this weekend as the team competes away from its large fan base, and the team's efficient warm-up practices will be paramount.
"Typically, when you go on the road, it's new equipment, it's different equipment, and I think it takes you a couple of extra turns to get adjusted to be reassured that everything is going to be fine," she said. "But honestly, you have to get in there, figure it out, and the teams that adjust the best are always the teams that are going to do better. Our ladies have a choice. You anticipate whatever you can, you adapt once you get in there, you overcome anything that hits your way, then 
you execute."
In order to continue progressing, junior Lauren Beers said it is important to establish a travel routine with the team, as well as expose the younger girls to the pressure that comes from a road match.
"The first road meet is always a test of how well the team is going to travel together," Beers said. "We always have a great time and we always bond so much. Having an away meet under our belt will be a good thing just for more of our confidence. Once our first one is out of the way, you can kind of relax a little more and know what to expect going in, especially for the freshman who haven't experienced it yet."
While conquering the first road meet certainly helps confidence, sophomore Katie Bailey said a strength of the team is its ability to support each athlete, helping to calm nerves and jitters, especially if each athlete sticks to the mental cues she creates in practice.
"I think with us, with the team, it helps us to be able to calm each other down," Bailey said. "With the mental cues, if you do it just how you do it in practice, it will turn out just how you want it to. But, I think the team has a lot to do with it, just calming 
everyone down."