Offense staggers, strays in 42-35 Sugar Bowl loss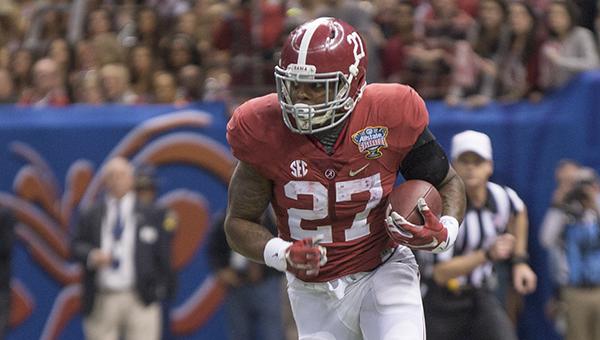 In Alabama's loss on New Year's Day to Ohio State, the team strayed from the formula that created the most productive offense in the history of the school and paid the price for it. After eight games with over 500 yards of total offense, including four marks over 600 yards, Alabama was limited to only 407 yards against the Buckeyes. Heisman finalist Amari Cooper touched the ball nine times for 71 yards and two touchdowns, well below his average of 123 yards per game.
"I was kind of anxious to see us take more shots down the field," Alabama coach Nick Saban said. "I don't think we, maybe, did that enough early in the game. And they did a nice job. But we did a little better job in the second half when we went no huddle, we played faster and did better, and I think there's obviously a lot of things that we wish we would have done differently to attack their defense. Their front did a really good job. We didn't handle them well in running the football like we thought we might be able to when we spread them out, and they did a good job on our perimeter screens and smokes. And we made the blocks but they made the plays, and you gotta give their players a lot of credit for the way they executed."
Sims, for his part, went 22-of-36 passing for 237 yards and two touchdowns while throwing three interceptions. It was only the second game all season in which Sims threw multiple interceptions. In his final game for the Crimson Tide, Sims posted a Quarterback Rating of 25.8, by far his worst of the season. Before the game, Alabama offensive coordinator Lane Kiffin credited Ohio State's elite defense, particularly on the defensive line, but Sims said the poor performance came down to his play.
"We weren't having no problems," he said. "It was all me. I take full responsibility for everything that happened tonight. It was no other person's fault but mine."
Alabama's running backs were the lone bright spot for the Crimson Tide's struggling team, with Derrick Henry repeating his breakthrough 2014 Sugar Bowl performance with a 13-carry, 95-yard performance. Henry and junior running back T.J. Yeldon combined for 142 yards but only accounted for 33 percent of the team's carries.
"It hurts," Sims said. "It hurts a lot. Not for myself, but for my teammates, because I know how hard they work in practice, I know how hard they work in the offseason and I went out there and had a game like I did. I take full responsibility for this and maybe if I had played better, we'd have had an 
opportunity to win."