Thomas finds home at UA volleyball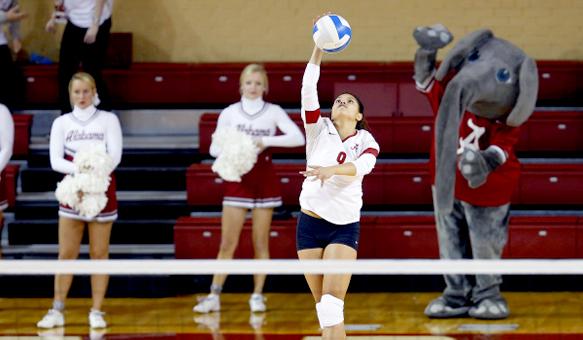 For outside hitter Brittany Thomas, a sophomore from Chandler, Arizona, volleyball is a family affair. She began playing the sport at an early age at the urging of her mother.
"My mom played volleyball when she was growing up, and she played volleyball and golf in high school. She said, 'Why don't you play volleyball?' I went to a few camps and fell in love with it," Thomas said.
As the end of middle school approached, Thomas realized she had found a sport that would potentially carry her throughout college.
"The summer before my eighth grade year playing, I just had a 'come to Jesus,' and everything started clicking – the blocking, the hitting – and ever since then it's been really good," she said.
During her sophomore year of high school, her recruiting process began through the club volleyball system. Alabama coach Ed Allen reached out to Thomas, much to the excitement of her father who had graduated from Alabama, continuing her family connection with the sport and school.
Timing lined up for Thomas, who had traveled to Atlanta to compete in nationals and was given the option to visit the Capstone on her trip by her father.
"My dad was like 'You can either visit Georgia or The University of Alabama.' I was like 'You know what, I'll just visit Alabama, my dad can see the campus again,' so I visited and ended up falling in love with it," she said.
Thomas started immediately her freshman year and finished her first season at the University with AVCA All-America Honorable Mention honors after starting in every match the Crimson Tide played. She also played in every rotation on the court and had a team leading nine double-doubles. This season, she notched her ninth double-double in Sunday's match at Ole Miss.
Allen said the young athlete sets a prime example for the team in ways beyond talent.
"She comes to work to do her job and makes the right decisions on a regular basis daily with how she lives her life, how she prepares as an athlete and a student, and she does a great job of supporting the team," Allen said.
Thomas and the Crimson Tide will travel to Missouri on Wednesday for their final road match of the season before returning home to face Tennessee for their final regular season match on Saturday. The final home match against the Volunteers will honor the team's two seniors, Caitlin Bernardin and Katherine White.
Allen said the seniors have been a positive influence this season and have taken each role given to them by the coaching staff without complaint or argument.
"Not only have they accepted roles that we've given them that, at times, have been less than desirable, they've not been a distraction with that," he said. "Kat is coming on very strong right now in the middle, and I think she's been a big difference for us over the course of the last two weeks, and I think she'll finish her senior year with maybe her best year."