Alabama tops Auburn in front of record crowd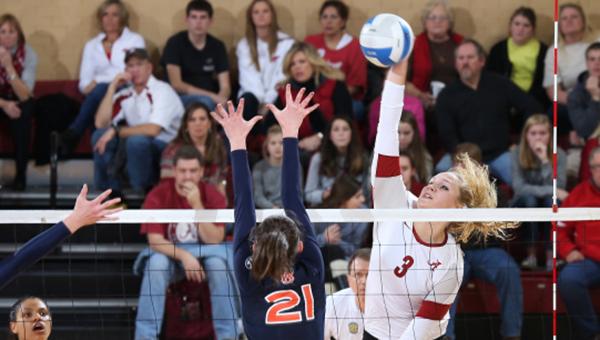 "We've seen nothing but the crowd increase each of the last three years. We saw it double after year one, almost double again after year two, and we're putting up some numbers that are pretty special," coach Ed Allen said. "I think we can pack this place most any Friday, and we're excited for what that may mean next Saturday against Tennessee."
The Crimson Tide opened the match with a dominant first set, jumping out to an 8-3 lead that forced Auburn to take their first timeout of the set. Alabama continued to build on their lead with a kill by sophomore Brittany Thomas, putting the first away for the team 25-13. On the set, Alabama hit for a .548 team hitting percentage with redshirt sophomore Krystal Rivers leading the set 
with six kills.
The first set also saw junior 
setter Sierra Wilson exceed 4,000 career assists in her time at Alabama, becoming just the fourth player to do so in Alabama history.
"She defended very well, and I thought she did a great job of 
distributing the ball," Allen said. "The team hit .369 for the match, and that's a solid number to be hitting. A lot of that has to do with what she did with the ball."
Although Alabama opened the second set with a lead, the team stalled, allowing Auburn to take control of the set. Despite Alabama tying the set at 23, Auburn ultimately took the set 29-27, after being stripped 
of four set points.
"All of these close games we're playing definitely help develop our mental state and make it a lot stronger," freshman middle blocker Leah Lawrence said. "Having the crowd in here being so loud was one of the reasons it was so close in the second set. They helped us almost win that."
Carrying momentum from their win in set two, Auburn opened the third set with a 5-1 lead, but a back-and-forth battle toward the end of the set gave way to an Alabama win, 25-22, giving the Crimson Tide a 2-1 match advantage.
Alabama held a strong lead throughout set four, with consecutive kills by Katherine White setting the team up with match point, then securing the match 3-1 for the Crimson Tide with a 25-16 win in the set.
"We all came together and played really well, and it was a team effort," Thomas said. "Some of us are battling through sickness and players stepped up who needed to step up. It was an all-around good team effort."
On Sunday, the team fell in five sets to Ole Miss on the road in Oxford. After falling behind in 2-0 in the match, the Crimson Tide claimed sets three and four, but was edged by the Rebels 15-11 in set five.