Volleyball to face Auburn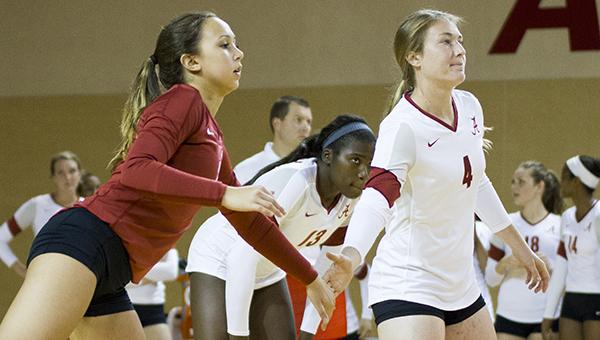 In a mid-week trip, the team will face off against the Tigers in Auburn Tuesday.
"I don't try to accentuate that with our players, other than this is another match, this is the next one up, this is who we have to go get," coach Ed Allen said. "When we start dwelling on the rivalry and other things, then we're now focusing our energy on things that really don't matter to us. What matters to us is who are their outside hitters, who are their middle hitters and what are they doing."
Entering the match, the Crimson Tide is looking to make improvements from its most recent performance against Ole Miss on Sunday, when the team suffered its first loss in Foster Auditorium this season. The loss is in the past for the young team, where junior Kryssi Daniels said it should remain, as with any other match.
"We're learning from our mistakes by fixing them," she said. "We watch what we did wrong, go to practice and fix it, and forget about Ole Miss because the 
game's over."
Allen said he expects the mid-week game to bring a new set of challenges to the court, as both teams are composed of young players, with the Tigers looking to form a foundation the season.
"They're a team right now that's struggling to find an identity and to be able to perform at a level that's acceptable for them and that they're capable of," he said. "We expect them to be a handful. They're fighting for their lives and they're at home, and if they buy into the rivalry, that's something for them to play for."
Throughout the season, mental toughness has been an area of growth for the Alabama team, and with only 11 regular season matches remaining, it's an aspect the team is looking to combat head on.
"It's always going to be a process," freshman Kat Hutson said. "We're never going to be perfect mentally or physically. That's not possible, but if we try to be as excellent as we possibly can in the metal toughness area, it shouldn't be a problem."