Men's tennis team to play in Auburn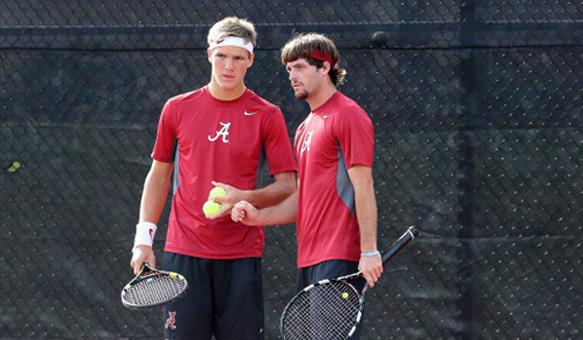 "It's a lot to put on ones' shoulders, because I'm not only team captain but a senior in college, so it's a little difficult to handle everything," Kenyon said. "It's definitely difficult, but I like to think that I know what I'm doing and I'm doing a good job. It's a lot on my shoulders but I'm enjoying the position."
For their third tournament of the fall, Kenyon and the rest of the team will travel to Auburn, where they will compete against all teams from Alabama, Mississippi and Louisiana, including SEC foes Auburn, Mississippi State, Ole Miss and LSU in the USTA/ITA Southern Regional Championships.
The team will take the court following a two-weekend break from tournaments, after winning 26 matches in its most recent tournament, the Crimson Tide Four-In-The-Fall and taking home 11 wins in its first tournament, the Harvard Chowdah Fest in Cambridge, Massachusetts.
"It will be great to compete again," coach George Husack said. "We've had a break the last two weekends from competition, which has allowed our bodies to rest.
With the team now midway through the fall season, Husack said he has seen constant improvement and expects improvement to continue throughout the weekend as they compete.
"We have consistently improved in practice from week to week. We've focused a lot on being resilient and incredible competitors in our workouts and our practices, and it's very clear to the team that players have seen their games jump a level or two," he said. "Now the key is to put that to use in tournament play. We had better results from Harvard to our home event, and I expect to see more improvement 
this weekend."
Throughout the fall, the team has focused on the message of unity and the importance of a bond both on and off the court. Kenyon said he feels that aspect of the game has improved greatly as well.
"Everyone is really adapted to each other and really coming together very well, probably the best in my four years of being here," he said. "Really, it's an extra boost to know that everyone on the team has your back and trusts you, and you trust them. It enables you to take the team over the edge."