Volleyball beats Clemson, sweeps tournament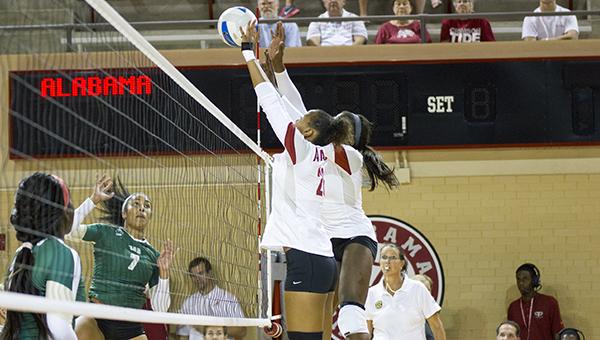 Alabama opened the tournament Friday by sweeping Florida International before defeating San Diego State in three sets.
In Saturday's closing event, Alabama took a 2-0-match lead against the Tigers before the visitors rallied to claim a convincing set three, 25-13. Looking to secure the match in the fourth set, Alabama jumped out to an early lead, eventually leading the Tigers by double digits, 21-11. Though a 9-2 Clemson run closed the gap, a kill by freshman Kat Hutson would clinch the set 25-22 and the match 3-1.
After dropping the third set to the Tigers, coach Ed Allen said the competitive nature of his team was 
apparent and they responded well.
"They're competitive kids that clearly want to perform well and are very supportive of one another," he said. "Because of that, they came out with a lot of energy, and not only that, but the ability to execute skills. Our first contacts cleaned up tremendously and our pressure at the service line was great, so consequently we built a pretty healthy lead out of that."
With four new team members accumulating significant playing time, Allen said mental toughness was an expected area of concern for the Crimson Tide in the weekend tournament, but one that has continued to improve from the start of the season.
"Mentally staying engaged and being able to focus for 25 points at a time is something we're going to work on as we move through the season," he said. "They're expected when you're dealing with as young of a team as we are. We're not playing any seniors and we're playing four new kids in the rotation, so there are some growing pains associated with that, and they'll get better as we continue to move through the weeks and approach December."
For their performances over the weekend, redshirt sophomore Krystal Rivers was named the tournament MVP, while sophomore Brittany Thomas and junior Sierra Wilson were named to the All-Tournament team. Rivers tallied 50 kills and 23 digs between the weekend's matches, while Thomas checked in with 33 
kills and 25 digs. Wilson tallied 124 assists on the weekend, averaging 
11.2 per set.
The ability to maintain energy and edge is a lesson Wilson said the Crimson Tide will take from the 
weekend tournament, which will make or break the team as conference play begins.
"It's easy to come out in a set and play hard and get the lead early, but as time wears on, you kind of start settling in," Wilson said. "I think we have to learn how to keep ourselves fresh and always ready to go, no matter how comfortable we may feel we are, because the SEC is going to be a whole different ball game."