Alternative Breaks provide new experiences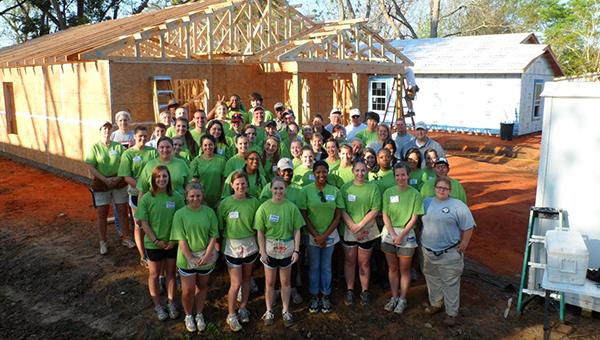 "It's a good mix of service projects and vacation," Glisson said. "It's a great way to meet people you wouldn't normally have a chance to be exposed to. Some of the best parts about the trip are the relationships you build with other students and the people you meet on the 
work sites."
Glisson said he enjoyed the Auburn trip so much he decided to sign up for the spring break 2014 trip to Oklahoma. He worked with Habitat for Humanity on both trips.
"We got to visit the memorial for the 1995 Oklahoma City bombing on one of the last days of the spring break trip," Glisson said. "I was only three years old at the time of the bombing so I had never really been knowledgeable on what had happened, and I think the memorial did a good job of taking you through the before and after of the situation. It's definitely the kind of place that leaves a lasting impact on you."
Alternative Breaks, which organizes service trips for students who wish to use their school breaks for community service, is now accepting applications for the 2014-2015 school year.
"We provide students with the opportunity to serve the community locally, nationally and internationally during the different University holiday breaks," said Center for Sustainable Service & Volunteerism Student Director Taylor Wood, a senior majoring in economics.
This year's Alternative Break trips are a service project with the Freedom Foundation in Selma, Alabama, during fall break; Habitat for Humanity in Tuscaloosa along with Auburn students over winter break and two spring break trips: an international service trip to Nicaragua and a domestic trip, the location of which has not yet 
been determined.
Applications can be found on the CSSV website. The fall break application is due Thursday, winter break is due Oct. 2, and the international spring break deposit is due Sept. 29.
Wood said the trips usually accommodate about 15 to 20 students, and the CCSV works to keep them as affordable as possible. Past trips have been to places such as the Dominican Republic and the 
Gulf Coast.
"International service trips are just a great way for students to delve into another culture," Wood said. "One of my other favorite trips that I've been on was the Dominican Republic service trip we did two years ago. That was just awesome because you're traveling, you're seeing a different country, but at the same time you're able to help people. You find that you're impacted by it just as much as they are."
Lauren Matthews, a sophomore majoring in chemical engineering, went to Moore, Oklahoma, last spring break to help Habitat for Humanity with tornado relief efforts.
"It was one of the best experiences that I had all of last year," she said. "I love community service. I like taking the time to get to know people and their different lives and also getting to meet random people who love doing what I do. I was completely unsure – going with 18 completely random people that I'd never met, and I ended up loving every minute of it."