Volleyball team sweeps home opener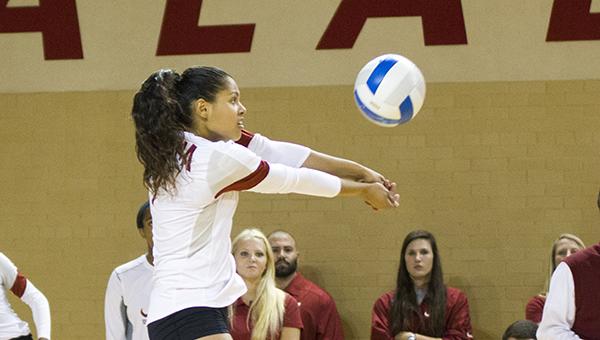 "I think they were really excited to get a chance to play at home," Coach Ed Allen said. "Anytime you get the chance to open at home with a talented team, they want to get a chance to showcase their abilities, and that's what they did."
The Crimson Tide jumped out to a 6-2 lead in the first set. Although UAB battled back, a kill by freshman Leah Lawrence advanced the Crimson Tide to an 18-12 lead before a UAB timeout. Alabama kept the Blazers at arm's length for the remainder of the first set, with a kill by redshirt sophomore Krystal Rivers, her fifth of the set, securing the first set 25-16. Freshman Kat Hutson also notched 5 kills in the set, with sophomore Brittany Thomas recording two of her own.
Despite trailing early in the second set, the Crimson Tide battled back and took a one to two point lead for much of the early action, until a kill by Rivers widened Alabama's lead to 10-7. A service ace from junior Sierra Wilson put the Crimson Tide up 17-9 before a UAB timeout, and a kill by Thomas secured the second set for the Crimson 
Tide 25-11.
Wilson, who Allen said has become a strong leader on the team, recorded 19 assists in the set alone, going on to notch 33 total in the sweep.
"She's starting to play like a kid that's started here for two years," he said. "She's really becoming very comfortable with directing the offense, and more importantly becoming comfortable with directing the team and organizing the team through rotations."
Three straight kills by Rivers tied the score at 6-6 early in the third set, and Alabama led 12-7 before a UAB timeout. The Crimson Tide again kept the Blazers at arm's length for the remainder of the set, and a kill by Hutson secured the sweep for the Crimson Tide.
Rivers said she was pleased with the team's performance night, citing a growing level of team chemistry; something the young team that started four new players is continuing to work on.
"On the floor, everything just clicked," Rivers said. "We felt like one team, one unit. At times this season, we haven't been that way, so it was great to do that for the entire match tonight."