Volleyball team looking for consistency in tournament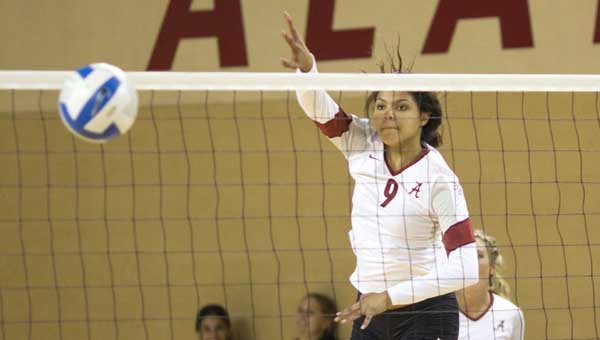 Alabama will enter this tournament after a mixed performance in the Cavalier Classic in Charlottesville, Virginia, where the team defeated Navy in their opening match but then fell to LIU Brooklyn 3-2 and ended the tournament with a 3-1 loss 
to Virginia.
Outside hitter Brittany Thomas, who recorded 14 digs in the loss to LIU Brooklyn, said she expects the Tide to put together a complete set, a goal the team struggled to achieve during last weekend's tournament.
"I'm expecting us to finally play to our potential from start to finish and be able to finish a game," she said. "This past weekend, we would get to point 20 and kind of coast a little bit. We need to really push once we get from point 20 to point 25 and finish the set strong."
Thomas, a sophomore from Chandler, Arizona, was one of three Alabama team members to receive All-American honors last year. Thomas said she is often asked if her goal is to repeat this performance, but sh e replies that the honor is only in the back of her mind. Her focus is simply to work hard and play hard and continue to invest in the UA program.
"When I came in, I bought into Coach [Ed] Allen and his goals for the program," she said. "It goes to show what can be achieved with that."
As the team continues to work toward its goal of winning every match, Allen said a prime area of focus for this weekend's tournament will be serving and passing, aspects he said cost the Crimson Tide in the Cavalier Classic. He said the team must work on the ability to score points and generate points through serves, be it by service aces or pressuring the opponent's offense.
"We won every statistical category expect for those two areas," Allen said. "The good news is, we're off to a good start, and we're going to get a lot better as the next two months unfold. We're excited to get back out and to compete and get 
better this weekend."