Saban explains defensive changes ahead of FAU clash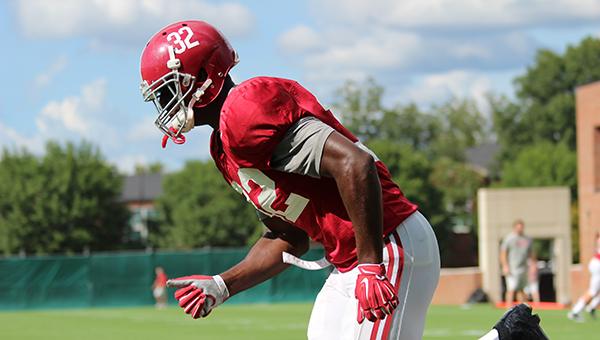 "The focus on our team is really on improvement," Saban said. "You've got to practice well and develop the kind of habits to help yourself improve."
The Crimson Tide defense was less than impressive in their 33-23 season opening victory over West Virginia, but they will be aided this week by the return of senior linebacker Trey DePriest. DePriest, who Saban and players have called a team leader, had to sit out for the game against West Virginia because of a minor NCAA infraction.
"I think Trey, because of his knowledge and experience and his ability to communicate, certainly allows other players to be more confident in the calls and communication," Saban said.
Among other changes on defense for this week's game will be Geno Smith taking the place of the injured Jarrick Williams at the star defensive back position.
"Geno is one of the guys who can play multiple roles," senior Nick Perry said. "He used to play corner, so the star should come easy for him."
Cornerback Eddie Jackson will likely also make his return this week. Jackson, who tore his ACL during spring practice, did not play in the first game of the season but has seen an increased workload during practice this week.
"Eddie has been working hard all summer and fall camp for this moment," said Perry.
On the offensive side, the team will have to make up for the loss of injured wide receiver DeAndrew White. White sustained a shoulder injury during the game against West Virginia and was seen wearing a sling on the sideline.
Saban said Christion Jones, Chris Black, and ArDarius Stewart are all capable of replacing him and will get some opportunity to play while White is injured.
Practice notes:
-The team practiced outdoors in full pads.
-Lane Kiffin got vocal with running back Derrick Henry, yelling at him during a drill saying, "Quit walking, Derrick Henry. That is the third drill in a row you have walked to."
-For the second day in a row Eddie Jackson worked with the first team in place of Bradley Sylve. Sylve worked with the second team at the cornerback position opposite of freshman Tony Brown.
-Geno Smith worked at the Star position in place of the injured Jarrick Williams.
-Brandon Greene worked with the tight ends even though he is listed as an offensive lineman.