Offense rolls, secondary struggles as Crimson Tide beats West Virginia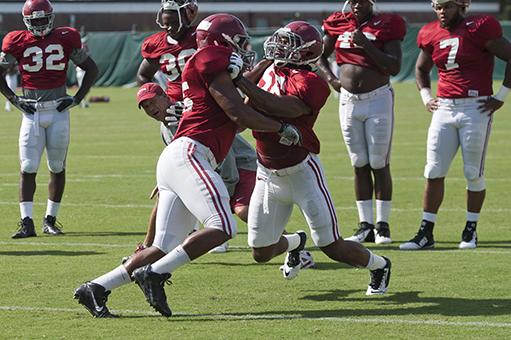 For all of the talk surrounding the new quarterbacks and Lane Kiffin's new offense, No. 2 Alabama returned to a familiar formula to beat the West Virginia Mountaineers 33-23 Saturday night in the Georgia Dome. Blake Sims went 24-for-33 for 250 yards and an interception in his first start, but Alabama's veterans were the ones who lifted the Crimson Tide.
The running back duo of T.J Yeldon and Derrick Henry recorded 240 yards and three touchdowns between them, while junior wide receiver Amari Cooper added 130 yards on 12 receptions. DeAndrew White racked up 73 yards on 6 catches, including a 38-yard run that evaded several tackles, before leaving the game with a separated shoulder.
"Well, I'm proud of the way our team competed out there tonight," Saban said. "I thought they made plays when they needed to make them. I think there's definitely a lot of things that we can improve on. I also think that there's a lot of things that we did well as a team, and I think you have to give a lot of credit to West Virginia's team, which we had a tremendous amount of respect for them going into this game."
Sims earned the starting spot after a prolonged preseason battle with junior Florida State transfer Jake Coker. Sims nearly played the entire game, with Coker only entering for the final series of the game.
"I didn't think about [the start] too much," Sims said. "I just went out there and played. Through spring and summer I was focused on getting the team ready. I knew I would be ready to go if I got the call."
Saban praised the senior's work ethic and familiarity with the system frequently during preseason camp. After the game, Saban said Sims struggled to get settled and called some plays incorrectly, but lauded his overall performance.
"Hey, he had a couple guys open that he missed," Saban said. "He also had a couple guys that dropped balls that he delivered. But all in all, for him to throw for 250 yards today, he did a pretty good job of executing all in all, and I'm happy with his progress."
Alabama's secondary continued to struggle against the no-huddle offense. Mountaineer quarterback Clint Trickett was able to pass for 365 yards against the Crimson Tide, including several long passes over the head of Alabama cornerback Bradley Sylve. As a team, Alabama gave up five third down conversions, with four coming in the first half. It could have been worse – Alabama was bailed out on several occasions when West Virginia's receivers dropped passes.
"It's very frustrating," senior safety Landon Collins said. "It's all mental. We knew we needed to make the stops and get off the field but we just didn't do it enough.
Collins said earlier in the week that Alabama had spent time in preseason camp preparing for the quick-paced no-huddle offenses, but the defense needed time to settle into their game plan.
"We just have to get familiar with the game plan and we just missed on some of the personal packages, but we got the win, so that is all that matters," Collins said. "We had a game plan coming in and it didn't quite work but in the second half we settled down.
Saban blamed some of the defensive struggles on the inexperience of the players, with linebacker Trey DePriest sitting out for a minor NCAA violation.
The Chick-fil-A Kickoff Game featured the premiere of a pair of starting specialists for the Crimson Tide. Adam Griffith took over as starting placekicker after spending the previous season as a long-distance specialist, and freshman J.K Scott took over punting duties. Griffith went 4-4 on field goals, with three over 40 yards, and Scott punted twice for a 50.5 yard average.
On the coverage side of special teams, Alabama conceded a 100-yard kickoff return for a touchdown and another 45-yard return by West Virginia receiver Mario Alford.
Saturday's season opener also marked the Crimson Tide debut for offensive coordinator Lane Kiffin. Under Kiffin's direction, Alabama recorded 538 yards of offense on 82 plays. The mark could have been higher, if not for a set of dropped passes by Crimson Tide receivers.
"I thought [Kiffin] did a fantastic job," Saban said. "You know, the guy is a really good coach."
Alabama (1-0, 0-0 SEC) will host Florida Atlantic next week.