Despite losses, Alabama still the team to beat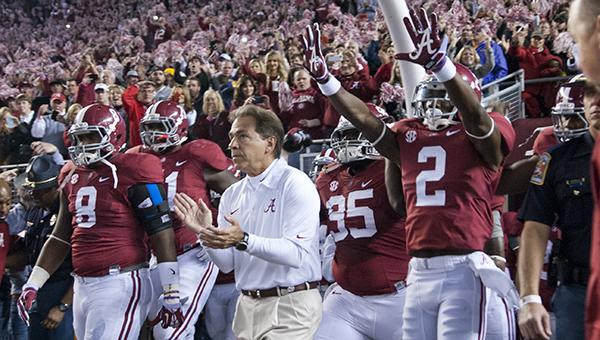 These three simple words have become viral in the past year, finding themselves plastered on painted poster boards held above the heads of screaming fans, mass-printed on team t-shirts – albeit sometimes prematurely – and even spreading far south of their origin, all the way to Brazil in the 2014 World Cup.
We want Bama.
It's no secret that the simple mantra has become somewhat of a joke, appearing in venues from Pop Warner games to the primetime soccer stage, and at all levels in between. Although used lightly, the phrase, dubbed as the best college football meme of 2013, carries a heavy weight behind the simple message. The Alabama Crimson Tide has become the standard, the goal and more often than not, the target. It's become a dynasty, and its power can be felt across the college football landscape.
Memories of last season still haunt the Alabama faithful, and incessant reruns of Auburn's Chris Davis running away – 109 yards away – with Alabama's championship hopes still elicit shudders from those wearing Crimson. A lackluster performance in the Sugar Bowl against Oklahoma followed by comments citing a lack of team unity are certainly still a cause of concern. But despite the losses, the Crimson Tide is still checking in at number two in the preseason polls, and is still being picked by many as not only the winner of the SEC Championship, but a contender to win it all.
Though kickoff is still approaching, teams – more notably fans – already have their matchup with Alabama circled in red. In a recent conversation, an Ole Miss fan said, in response to my skepticism about the upcoming season, "But it's Alabama."
It's true. Alabama is Alabama. Despite the talent we may lose between seasons, there's a line of four and five-star recruits waiting to take the field. There's still a coach who demands perfection of his team, both on the field and off. There's still a dynasty.
During SEC Media Days, Saban said the team needs to reclaim their identity, return to Alabama caliber. While the boys in Crimson may have forgotten this identity, the rest of the country sure hasn't. Like it or not, fan or foe, the automatic success associated with the Crimson Tide is here to stay. The Alabama identity is alive and well, and it will take longer than one second to be erased.