Renovation on sorority row continues with 2 new houses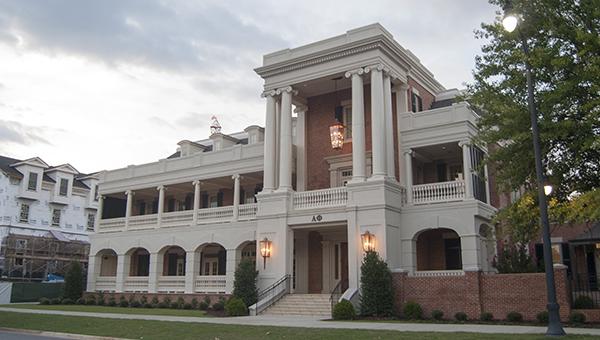 This year's pledge class was the ?largest The University of Alabama has seen, with more than 2,000 women receiving bids. In response to the ?continuously expanding Greek system on campus, construction was completed this ?summer on two sorority houses, Alpha Chi Omega and Alpha Phi.
Alpha Chi Omega's new house sits atop the intersection of Magnolia and Colonial Drive, across the street from Bryant-Denny Stadium. Alpha Phi's new house is down the street from its old location near Trinity United Methodist Church on Paul W Bryant Drive.
Both houses include a chapter room, ?dining room, kitchen and serving area, study areas, lounge and meeting spaces, an entry-foyer and a landscaped courtyard. Alpha Chi Omega will house 76 members, while Alpha Phi will house 66. Both have basements that include storage space and will serve as storm shelters. Each house offers approximately 40,000 square feet of space.
Cathy Andreen, director of media relations, said the houses each cost approximately $12 million to construct. Andreen said all construction and renovation of Greek houses is funded by Greek organizations.
Caroline Fulmer, the financial advisor for Alpha Chi Omega, said the building will be paid for through a loan system by alumni donors over the next 30 years. The house was built on land leased from the University and owned by the Alpha Upsilon Chapter of Alpha Chi Omega House Corporation.
"Our new house was necessary because membership has been increasing dramatically," Fulmer said. "When our former house was expanded in the early 1990s, the chapter had around 200 members, and we now have almost 400 members."
Fulmer said all the bedrooms have built-in furniture, televisions and refrigerators. The dining room can accommodate approximately 300 people, and the entire house is handicapped-accessible.
Another new amenity featured at the Alpha Chi Omega house is a locker area, which Fulmer said will allow members who don't live in the house to store their belongings there during the day.
Alpha Chi Omega President Molly Edwards, a senior majoring in marketing and advertising, said she is most excited about the new larger dining room and chapter room because they will now be able to seat all their members at once.
"Living in the new house is honestly a once in a lifetime experience," Edwards said. "There's just nothing like living with 75 of your friends in a dream house. Serving this organization is truly awesome, and having a new house with amenities like we do makes it even more exciting to be a part of what we do."