Cam Robinson poised to take starting role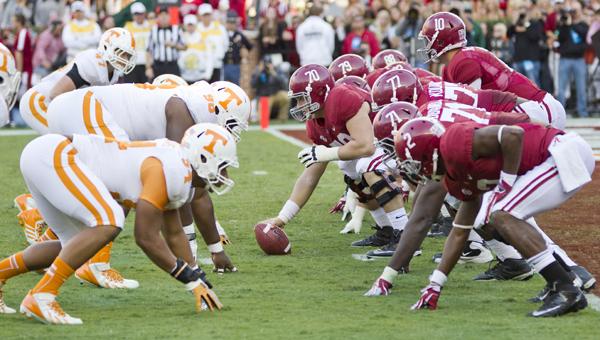 While the preseason camp saw a fairly consistent first-team offensive line, coach Nick Saban was far from finalizing the starting front five when camp began.
"I can't say coming out of spring practice we're completely set with where we are in the offensive line, so there's still some, at least early in camp, evaluation that must go in to the new players, and how much the older guys improve relative to how the new guys could contribute. And there may be a couple of those guys who can contribute," Saban said after Alabama's Fan Day on August 3. "The goal and objective is to get the five best guys at the positions that they can play, and get them together and get them to develop chemistry so they can play well together, as soon as possible."
Early-enrollee and top-rated offensive tackle recruit Cam Robinson was an early favorite to become one of the five best and fill a void at left tackle. Robinson will be faced with high expectations in a spot previously occupied by Cyrus Kouandjio. Cyrus Kouandjio, a 2013 All-American and two-year starter, was taken in the second round of the 2014 NFL Draft by the ?Buffalo Bills.
Robinson, a West Monroe, Louisiana native, was highly touted throughout the recruiting process as one of very few who would be capable of starting for the Crimson Tide as a true freshman, a rare feat in the Saban era. After securing the first-team slot during A-Day, he has remained the favorite for the job, and has earned praise from Saban as he continues to grow since his enrollment in January.
"I think Cam has done really well, and you can definitely see progress and maturity as a person and as a player from when he got here through spring practice through the summer 'til now. We're encouraged by that progress and development, and he has executed much better," Saban said at the beginning of ?preseason camp.
The battle to fill the vacancy at right guard has not been as certain, with injuries plaguing the hopeful starters. Senior Leon Brown seemed to be the favorite for the spot left by Anthony Steen as spring practice concluded.
However, Brown has remained sidelined for much of fall camp with a foot injury, missing both preseason scrimmages. He is expected to return to full strength this week, and will compete against sophomore Alphonse Taylor, who has held the first-team position throughout the preseason.
Junior college transfer and offensive line competitor Dominick Jackson was also sidelined temporarily with an ankle sprain, missing Saturday's scrimmage. Though Brown and Jackson's injuries have been minor, they have carried a severe impact throughout the fall camp.
"Those guys would have both either been starters, competed to be starters, or at worst case, been really really good backups and provided a tremendous amount of depth for us as a team," Saban said. "Both those guys are big, they're physical – that's what we've tried to create in the offensive line, to be a little more physical this year."
Despite the lingering questions, Arie Kouandjio said he feels confident in the group who will line up in front of Alabama's yet-to-be-determined ?quarterback.
"I feel like we have a good core group of guys to move forward with, and accomplish the goals we have set up for ourselves."