Summer play key in tennis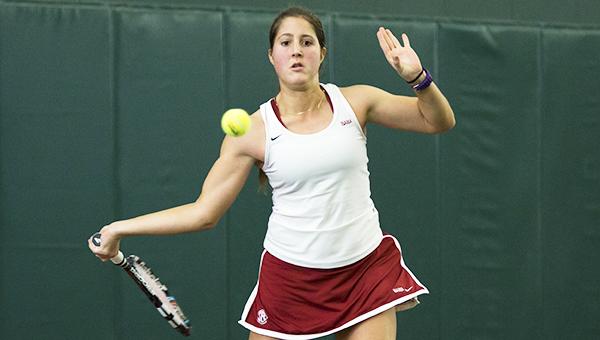 "The players that truly want to get better are out on the tournament trail during the summer time," women's coach Jenny Mainz said. "I feel like we had some players this summer really make jumps in their games, namely Natalia Maynetto."
Earlier this month, Maynetto, a junior, defeated top-seeded Frances Altick of Vanderbilt to win the ITA/USTA Summer Singles Championship. With that win, Maynetto earned a wild-card entry into the main draw of the Riviera/ITA All-American Championships, which will be played in late September.
"Tennis is such a tough sport to take time off of," Maynetto said. "You have to keep up with it."
Members of the men's team also stayed busy this summer, with two Alabama faces making an appearance in the Atlanta BB&T Open held in late July. Freshman Korey Lovett made it to the first round of the qualifying draw after winning the qualifying wild card challenge earlier in the week, and junior Becker O'Shaughnessey made it to the third round. The two also paired up to represent Alabama in the first round of the main singles draw of the tournament.
"[The tournament] was an unbelievable experience – probably the best I've had so far," Lovett said. "Just knowing that you belong there felt good."
Senior Stuart Kenyon, who played in five summer tournaments, said while summer practice is important, it's the exposure to aspects of a tournament that is a necessity to improve your game and prepare for the upcoming season.
"It's a major component that really benefits you for the upcoming year," Kenyon said. "It's really the matches and the experience, knowing what to do on the court and how to perform in the match – that's what you really need."