KA cancels 2010 Old South parade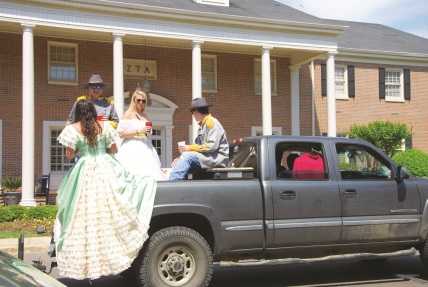 Kappa Alpha's president says the fraternity has canceled its annual Old South parade a year after the event was charged as racially insensitive following an incident involving a historically black sorority.
Mark Smith said the fraternity will release more details about their decision today.
It was not clear on Wednesday if the move was related to last year's problems or if UA officials asked the fraternity to cancel the event.
The event has traditionally featured members dressed as Confederate soldiers and waving Confederate flags. Last year's parade made a prolonged stop in front of Alpha Kappa Alpha sorority's house as the historically black group was holding an event celebrating its 35th anniversary.
The incident upset many of the group's alumnae, some of whom had attended the University during an era of deep racial tensions. Some of the women said it made them think nothing had changed at the University.
Sorority members said they requested an apology from Kappa Alpha members while the trucks were in front of the house but did not receive one. National and local fraternity leaders later apologized.
Following the incident, Alpha Kappa Alpha alumnae sent a letter to UA President Robert Witt asking him cancel all Old South events.
"It is our collective belief that a parade of Confederate flags and costumes … should not be permitted on any college campus that is truly dedicated to inclusiveness," the letter said.
Efforts to obtain comment from UA leadership on Wednesday were unsuccessful. Gentry McCreary, director of greek affairs, declined to comment on the parade's cancellation.
Kappa Alpha chapters hold Old South week celebrations to honor the men who founded the fraternity in 1865 at Washington College in Lexington, Va., according to information on chapter Web sites. Members dress in Confederate uniforms to honor founders who had fought for the Confederacy in the Civil War.
Joyce Stallworth, senior associate dean in the College of Education and a member of AKA, presented the sorority alumnae's letter to Witt. She said Wednesday that she assumed the fraternity members worked closely with officials in the Division of Student Affairs to find a way to celebrate their founders.
"I trust that they are finding a way that commemorates their founders [that] is more in line with a positive campus climate," Stallworth said.
More low-key elsewhere
Other chapters at Southeastern Conference universities have been tweaking how they celebrate Old South week.
Auburn University's chapter of Kappa Alpha cancelled its traditional Old South parade in 1993 after police had to reroute the parade in 1992 to avoid a confrontation with students protesting the event.
At Louisiana State University, Kappa Alpha still holds a parade, but fraternity members wear the gray Confederate hats instead of a full uniform or jacket.