Former SGA president to run for city council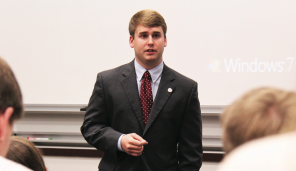 Former Student Government Association President, Matt Calderone announced this morning that he will run for the District 4 seat on the Tuscaloosa City Council. District 4 covers the downtown Tuscaloosa area and the University of Alabama campus.
Calderone ended his term as SGA president on April 2. Calderone will graduate from the University in early August with an undergraduate degree in political science, shortly before the election on August 27. As a sophomore, Calderone interned with the city and was a member of Mayor Walt Maddox's Incident Recovery team following the April 27, 2011, tornado.
Calderone said it has not always been his plan to run for a seat on the Tuscaloosa City Council.
"I am running for city council because my experiences in Tuscaloosa have led me to a point where I feel called to serve our community," he said. "I want to continue the tremendous success our City has had by strengthening the relationships between the University of Alabama, the City of Tuscaloosa, and entire Tuscaloosa community," he said.
Calderone said his time as SGA president allowed him to gain knowledge about the true needs of the student body and how those students need to advocate a voice outside of the UA campus.
"My term, and experiences prior to it, also gave me the opportunity to engage the non-student population of Tuscaloosa in order to enhance student/community relations and advance the city we call home," Calderone said.
Councilman Lee Garrison announced this week that he will not run for re-election this year in District 4. Garrison will run for chairman of the Tuscaloosa Board of Education in August.