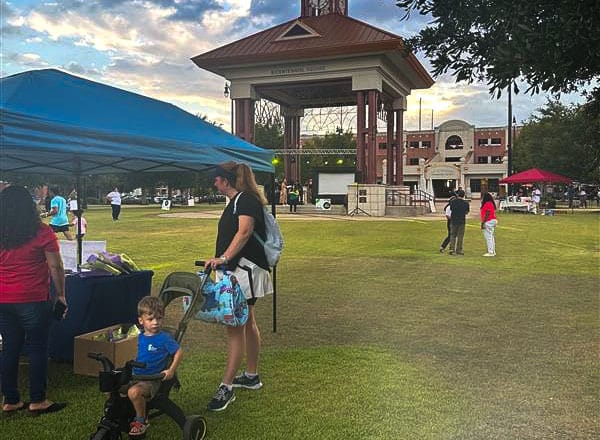 Julia Sosa, member of the Diverse Business Council and the Tuscaloosa Latino Coalition, explained she had been given the task to celebrate something for Hispanic Heritage Month that was inclusive and displayed Latino culture.  
"I said let's do a 'Feria,' which is kind of like a festival, we were going to call it "Latino Expo," but that's when you exclude people," Sosa said. "The ultimate goal is for the Tuscaloosa, Alabama, community to know that Latinos have a presence in Tuscaloosa." 
On Sept. 15, the Tuscaloosa Latino Coalition and the Diverse Business Council invited the community to attend "La Feria," Tuscaloosa's first business fair celebrating Hispanic Heritage Month.  
The event was held in downtown Tuscaloosa at the Government Plaza and featured multiple Tuscaloosa businesses that provided free food, drinks, samples and activities to attendees, including face painting, art presentations and bull riding.  
Some businesses included Las Piñas, a family-owned food, snacks and sweet treat business "that is excited to bring a new modern concept of ice cream shop" to Tuscaloosa, according to its Facebook. Other businesses in attendance had tamales, jewelry and more for guests to enjoy.  
The fun, interactive atmosphere was accompanied by live entertainment and music provided by La 97 Radio. Many businesses represented a Spanish-speaking country with items, information and educational resources for Tuscaloosa's Latino community about their work. 
Barbie Perry, bilingual real estate agent at Keller Williams, spent her time at the event trying to educate the Hispanic community in Tuscaloosa about the process of buying a home. 
The Tuscaloosa Public Library was present at the event, discussing upcoming plans to collaborate with the Tuscaloosa Latino Coalition and providing resources to sign up for library cards. Later this month on Sept. 30, the Tuscaloosa Public Library will host a Hispanic Heritage Month festival. The event will have music, delicious food, crafts, and booths representing different countries.  
"We invite everyone in the community to visit us, we have the support of organizations and local businesses," Katherine Hoffman, employee of the Tuscaloosa Public Library who works at the reference desk, said. "We will also have activities for the kids, and a special guest." 
This year, the special guest writer, Cristina Tzintzun Ramirez, will be discussing her book "Sweet Dreams, Mis Hijos," about Latino leaders. Hoffman explained that Ramirez will be signing book copies and talking to the kids about achieving their dreams.  
Sosa hopes that every year during Hispanic Heritage Month, a Feria will be held and will continue to be what it was originally advertised to the community as: "a celebration of Latino culture and businesses" where "flavors, innovation and creativity collide."