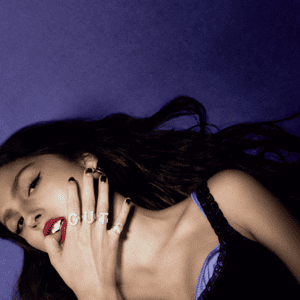 Singer-songwriter Olivia Rodrigo released her long-awaited second studio album, "Guts," on Sept. 8. Since the release of her first album, "Sour," in May 2021, fans have been anticipating the artist's return to the pop world.  
The album includes 12 songs in which Rodrigo spills her guts about home-school experiences, second-guessing decisions, relationships and more. Leading up to release, Rodrigo dropped three singles, "Vampire," "Bad Idea Right?" and "Get Him Back!"  
Rodrigo wrote alongside fellow artists Amy Allen, Julia Michaels and Dan Ngiro. 
"I feel grateful for everyone on my team who believes in me & supports me so unwaveringly," Rodrigo wrote in a note shared on her social media with the release of the album. "I feel grateful for my collaborator Dan who pushes me & inspires me and without whom this album wouldn't have been possible." 
While the album features songs about relationships, such as "Love Is Embarrassing" and "Get Him Back!," it is not entirely a breakup album.  
"It's so much about growing up and finding your footing in the world." Rodrigo told The Guardian. 
In the album's final song, "Teenage Dream," Rodrigo questions if her best years are slipping away and acknowledges the expectations placed on so many young people in lyrics like, "Will I spend all the rest of my years wishin' I could go back? / I'll blow out the candles, happy birthday to me / but I fear that they already got all the best parts of me." 
During the release of her debut album, Rodrigo was known mainly for her role as Nini in Disney's "High School Musical: The Musical: The Series" released in 2019. Rodrigo left the show after three seasons to pursue her career as a songwriter. In an interview with The Guardian, Rodrigo shares her growth as an artist and her decision to pursue it full-time because "it proved difficult to balance both obligations."  
In "Guts," Rodrigo shares raw, personal emotions in her songs that carry the similar relatability of her first album. With two years between releases, Rodrigo is now 20 years old and continuing to navigate the music world. In an interview with Apple Music, Rodrigo shared how the creative process was "so different" from her previous album.  
"I think the first time around I was just filled with so much adrenaline," Rodrigo said. "This time it feels a little more real, and it's kind of scary to know there will be so many ears on it." 
On Sept. 13, Rodrigo announced her "Guts World Tour," which will begin in 2024. Several artists like The Breeders, PinkPantheress, Remi Wolf and Chappell Roan will join Rodrigo on different parts of her second tour.