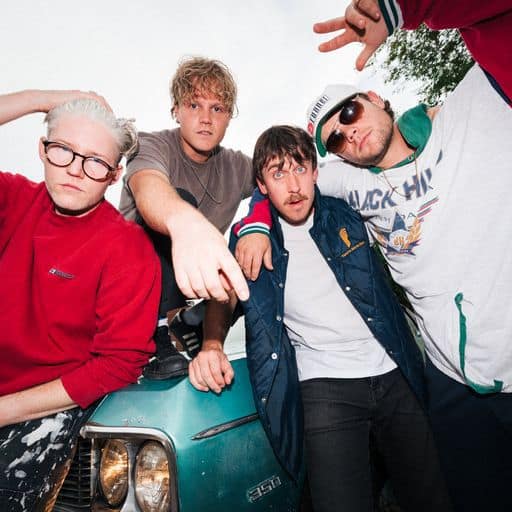 Just trying to survive? Tired of fighting for your life? Or maybe you're just having one of those days. Take a break from the hectic first weeks of school and come see Colony House perform at Druid City Music Hall on Sept. 14.  
Colony House is a band that prides itself on continuously exploring its musical potential. Franklin, Tennessee, natives Caleb Chapman, the band's lead singer, and his brother Will Chapman, the drummer, have been making music together since they were little kids. After graduating from high school, the duo turned their dreams into reality.  
In 2009, they met their guitarist, Scott Mills, in a stroke of luck at their little sister's birthday party, and the developing band named themselves Caleb. However, this young band was still missing its future bassist. Parke Cottrell met the band after opening for Caleb in Knoxville, Tennessee, and joined the band in 2014 after it was renamed Colony House. The name was inspired by the name of the apartment that the Chapman brothers and Mills lived in.  
Colony House is a band that, over many years of touring, has interwoven with the indie rock scene. It has toured with bands such as Coin, Judah and the Lion, and Knox Hamilton, and are good friends with many musicians who have also come from their hometown.  
However, surprisingly so, Colony House has roots here in Tuscaloosa, Alabama. Sept. 14 marks the band's fifth time performing in Tuscaloosa and its second time at Druid City Music Hall.  
The band has also played for a fraternity party and in Coleman Coliseum for homecoming in 2021. The members of Colony House, but especially the Chapman brothers, are proud Alabama fans who have seen one of their little sisters graduate with a master's degree and their other sister fly as a cheerleader at football games.  
Colony House is beyond excited to bring its new album, "The Cannonballers," to Tuscaloosa. The band has declared that the album is "an easy-to-love combination of emo and jangle pop," a completely different sound from their previous albums.  
With contemporary Christian roots and a soul of rock and roll, Colony House constantly tries to tap into new audiences and genres of music.  
"We still feel like we are introducing ourselves to people," Caleb Chapman said. "And we are still trying to figure out the next audience to introduce ourselves to."  
However, Colony House's ability to spread positive messages and perfect the art of conversation through music has remained consistent. The band wants its audience to feel as if they are friends enjoying a night together.  
"We want to be approachable, almost like you're going to meet someone for coffee for the first time," Caleb Chapman said.  
In fact, during previous shows, Caleb Chapman has stepped off stage and shaken people's hands, offered them embraces, and joined the crowd to display the message that he and the audience are equals and that there is something powerful about the human connection during a performance.  
 "We want to erase the idea that there is a stage," Caleb Chapman said.  
And even if Colony House aims to make its shows as fun and as memorable as possible, there is a layer of trust that is built between musician and listener during the experience. Almost all the band's songs are written to make the listener dig deeper into themselves.  
"We write pretty existentially," Caleb Chapman said. "We are constantly pondering what it means to be a part of this world."  
Caleb Chapman shared that the intermediary season between tour and album release is one of his favorite times of the year. He and the rest of the band all write music in bursts, feeding off one another's creative intuition until it builds a project.  
"It's the darkest season, it's kind of like therapy," Caleb Chapman said. "You're talking about the hardest parts of your life, or you're exploring all the facets of your life, but when you come out on the other side, it feels really nice."  
This is exactly what they hoped to achieve with "The Cannonballers," an album that is equally fun but a deeply cerebral and existential experience. Druid City Music Hall on Sept. 14 will be not only a show, but a way to connect with a group of incredibly talented musicians.  
It is the perfect stress reliever after a week full of events and academics. So come sing along to "The Cannonballers,"and make conversation with a group of people and musicians who have perfected it. Tickets can be purchased on Druid City Music Hall's website.