Opinion | I did it all, despite: a journey through abuse, trauma, and grief
Reagan Fryer is a graduate student in the Department of Journalism and Creative Media at The University of Alabama. 
Content warning: this article discusses topics of abuse and drug use. 
A friend told me recently that she's proud of me for what I've accomplished despite where I came from. Despite the child abuse and my parent's drug use. Despite the sibling loss and the death of my friend. I did it all, despite. If life has taught me anything, it's that overcoming obstacles only makes the triumph sweeter. 
Still, some days, I find myself questioning everything.
I wish the human memory could go back to the day we were born. What did my mother look like the first time she held me in her arms? Did my father weep at the sight of me?
My earliest memory is of my pink bedroom in Woodland Hills. I was devastated when we moved to the doublewide on Keenes Mill Road. In that trailer, I discovered that life is cruel. 
I will never forget the feeling of longing for someone I never knew. My sister, Heaven LaShae Ross, went missing in August 2003 when I was three years old. She was walking to the bus stop alone on a rainy Tuesday morning, wearing a pink Bratz t-shirt and preparing for another day of sixth grade. 
My imagination ran wild for years after she went missing — would she come barreling up the porch one day, telling tales of where she went? Would she take the pictures I drew for her and hang them up in a pink bedroom of her own?
They found my sister's body in an abandoned house one week before Christmas of 2006. At six years old, I stood before the television and watched the headline float across the screen. Her killer has never been found. 
I don't remember much else from my first-grade year except that I was homeschooled. It was a stark contrast to the blue alphabet rug from my kindergarten classroom. 
As the principal of her doublewide, my mother slept on the couch all day. She was too intoxicated to function as a parent or schoolteacher. We had a printed menu of what she would cook us for lunch hanging up in the hallway, the burnt pizza in the kitchen making a mockery of it with every second it sat there. 
When my father was home, we lived different lives. My mother was awake, cooking barbecue chicken and Jiffy cornbread. I'd curl up in my father's lap while we watched Jack Bauer save the day, sniffing the Polo Green cologne he wore and savoring the feel of the gel spiking up his hair. 
As a child, I thought my parents were the embodiment of true love. They met at a bowling alley when they were young and beautiful. The day my father left, I stood at the door begging him not to go, my older sister sobbing beside me. He walked out of the screen door and took off in his white work van to a place with split weekends and alternating siblings. 
I hated those weekends, but I hated it more when they got back together. My parents and I lived in a one-bed hotel room with two of my siblings from third grade to the beginning of fifth. I laid on my palette on the floor and resented them for the way it felt underneath my back. 
I couldn't contain my excitement when we finally moved into a house. I told everyone who would listen. How did I look to the other adults, bragging about a house with bars built into the windows? I was over a month late starting sixth grade that year, my education the least of my parents' problems. Is that why I struggle with division? Did I truly miss the entire geography unit? 
When my grandparents learned that we were living in a house without running water or electricity, they took my sister and me in. 
I escaped from those harrowing living conditions, but right before I turned 12, I faced another life-altering event when I was abused by a man that I trusted. Was I ever meant to have a man in my life that would protect me?
The answer was evident when at 14, I lost my eldest brother after he was hit by a train. I felt like an outsider among my peers after that, dressed in black and drowning out the world with music. Looking back, that was the only thing that helped me cope and make it through the first two years of high school.
Until I started dating my would-be-husband at 16 years old. We met in the midst of my grief, and our friendship bloomed. I started working my first job at a locally owned restaurant. I did dual enrollment and gained college credits. I graduated high school with a number of scholarships and acceptance letters. I was thriving.
But at 20, I got fired from that job, an experience that caused me to spiral into a months-long period of anxiety. That was only amplified when in August of the same year, I lost my friend of six years — another person that saved me in a million little ways — to an overdose.
Despite the grief, I achieved several milestones in 2021. I got engaged, graduated from The University of Alabama with a Bachelor of Arts in English and discovered that I was pregnant with my daughter.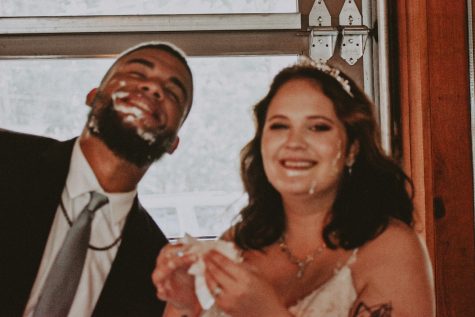 Shortly after that, my high school sweetheart and I got married. On New Year's Eve, I gave birth to a healthy baby girl, Cecilia LaShae, who we named in honor of my two late siblings.
Since then, I have visited my friend's grave in Sweden and got to know his family, celebrated my daughter's first birthday, landed a job that I genuinely enjoy, and started my own business.
This May, I will graduate from The University of Alabama with my second degree: a Master of Arts in Journalism and Creative Media. 
And I will walk across that stage knowing I crushed every obstacle thrown my way. Your goals may feel out of reach sometimes, but they never really are. 
To everyone who has supported me along the way, thank you. To my parents for getting clean. To my grandparents for giving me stability. To my husband for staying by my side. And to my daughter, you will never have the childhood that I had. Because I will be a good parent, despite.