Women's tennis taking it one match at a time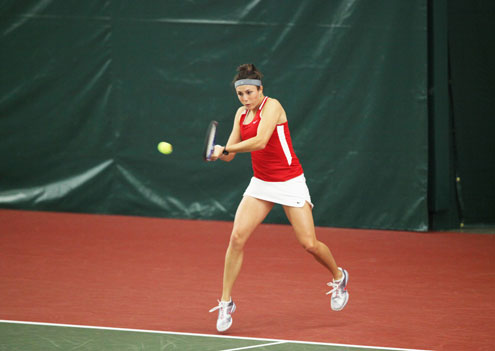 Alabama women's tennis will continue Southeastern Conference play this weekend with two matches against Vanderbilt and Kentucky. The No. 15 Crimson Tide is currently 4-0 in SEC play and hopes to keep their spotless record intact over the weekend.
The Tide will face Vanderbilt at home Friday and will finish the weekend with a trip to Lexington to face Kentucky on Sunday. Vanderbilt and Kentucky are currently 3-1 and 0-4 in SEC play, respectively.
Head coach Jenny Mainz said she keeps the team focused solely on the next match.
"Vanderbilt is a big match, but it's not any bigger than any other match," Mainz said. "And we've got to make sure that we stay focused and keep doing the right things and that we don't make one match too important. We don't need that kind of pressure. We've got to go out and do what we've been doing since January, and that's just doing what we can do to get better, taking it one match at a time and making sure that we give ourselves every chance to be in a good position to be successful."
The Tide attributes much of its success to hard work and multiple leaders on the team.
"I've hit on this a couple times, but the maturity, experience and leadership have paid dividends," Mainz said. "This is a very mature group. It's not that they're older, because we've got two freshmen, two sophomores, two juniors and two seniors, which is a really good combination. Our veterans have done a really good job leading the way with work ethic, with attitude, making good decisions on and off the court and with stepping up in opportune times."
Sophomore Mary Anne Macfarlane has proved to be a leader in her two seasons at Alabama. She is currently ranked 15th in the nation in singles and 13th nationally in doubles with partner Alexa Guarachi.
"I know that all of us are going to give our best effort, and that's really all you can do," Macfarlane said. "We have really good leadership and we play for each other. We're just taking it one match at a time and trying to do the right things in the matches to be successful."
For freshman Yasmine Ebada, success in upcoming matches will only be achieved through team unity, something she says they are not lacking.
"As long as we're doing what we have to do on the court and competing hard, then the outcome will fall into place," Ebada said. "My team is awesome. We really do have a great team, and we compete really well together."
Ebada was announced as SEC Freshman of the Week Wednesday after being at Alabama for only two months.
"We feel good about where we are, but we've got a long way to go with SEC championships in the future," Mainz said. "We've got our work cut out for us this weekend, and we know that. We're not looking ahead. We're just focused on Friday with Vanderbilt, then Saturday on the bus, we'll get ready for Kentucky on Sunday.  We just keep it simple."