Volleyball comes back to beat Arkansas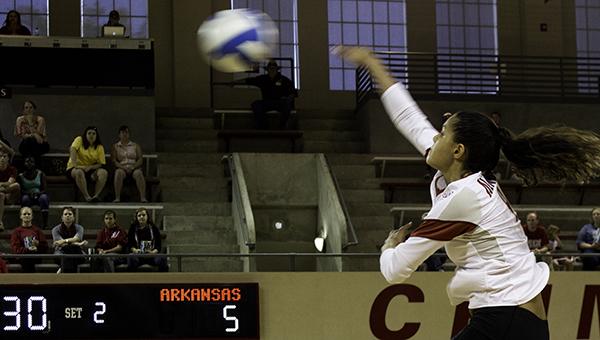 "I think it was a great team effort," Rivers said. "We played with composure after losing the first set, we played competitively and we executed well."
Prior to Sunday's match, the Crimson Tide was 1-4, losing the first set of a match, a statistic that became relevant after the team dropped the opening set of play.
Alabama built a steady lead through the early play of set one, but the Razorbacks remained competitive, ultimately holding a 15-14 lead at the set's first media timeout. Arkansas continued to build on the lead, reaching its first set point at 24-19. Despite a five-point Alabama scoring run led by the serving of Leah Lawrence, the Crimson Tide fell 28-30 in the first set.
Coach Ed Allen said he saw an increased level of maturity in the players' responses to the first set.
"More than anything else, we're growing," Allen said. "We wanted this team to grow up a little bit more, to be a little less dependent on coaches and other people, and understand that players win games. They're growing up, and that's what I take more than anything."
Despite a tight beginning to set two, Alabama surged ahead to tie the match, winning the set 25-20. On the set, the Crimson Tide hit .389.
The Crimson Tide held the lead for the entire third set, and off of a kill by Krystal Rivers, her sixth of the set, the Crimson Tide took set three 25-19 and the match advantage, leading 2-1 heading into the fourth set.
Although Arkansas opened the fourth set with a three-point lead, the Crimson Tide rallied back, leading 14-11 at Arkansas' first timeout of the set, then extended its lead to 17-13 to force a second Arkansas timeout. A kill by Rivers sealed the set 25-20 and the match for the Crimson Tide.