Dunkin' reopens after renovations to praise from students and employees
After being under renovation for most of the fall semester, the Dunkin' in Lakeside Dining Hall reopened  with praise from students and employees regarding the new modern aesthetic and updated equipment.  
The cafe is now equipped with a tap dispensing system that employees can use to quickly pour cups of coffee or tea rather than baristas brewing them. The renovation also adds digital display menus and extra storage space.  
The new design has a brown, black and beige color scheme, in contrast to the old brown, pink and orange design. 
Kristina Patridge, the director of University Dining Services, said the location was renovated to keep up with the modern Dunkin' brand. Patridge said one of her personal favorite changes to the location was the decision to move the donut display to the front of the store. The old design had the donuts stored in trays on the back wall.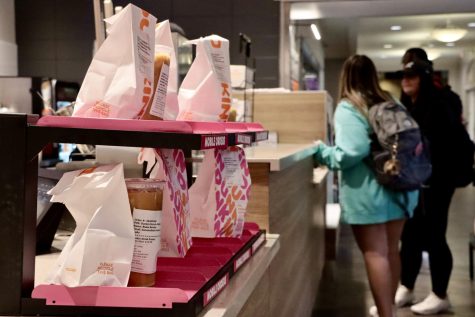 "It's keeping the customer in mind and hopefully expanding the opportunities for them," Patridge said. "We want to create destinations and deliver an experience so … I hope that we'll be successful in this one."  
She added that the renovation gave the location more of the University's design theme, in contrast with a primarily Dunkin' theme. 
Dunkin' shift leader Starr Mastin, a sophomore majoring in criminal justice, said she likes the tap system and the added storage.  
"With the old design, we didn't have a lot of storage. … We kind of had to stack things on top of each other," Mastin said. "Now we have more storage area and … the tap system [makes it] easier to get coffee out."  
Emma Duncan, a Dunkin' employee and a sophomore majoring in elementary education, felt the same way about the tap system. 
"The redesign not only makes it easier to function and work in the back, but it also makes it look nicer, more modern and cleaner," Duncan said.  
Griffin Moriarty, a junior majoring in chemical engineering, said the new design makes the menus easier to read. He also said he was a "big fan of the aesthetic" and that the design looked more "sleek and modern." Moriarty said the service seems to be "streamlined" as well with the new tray for mobile orders.