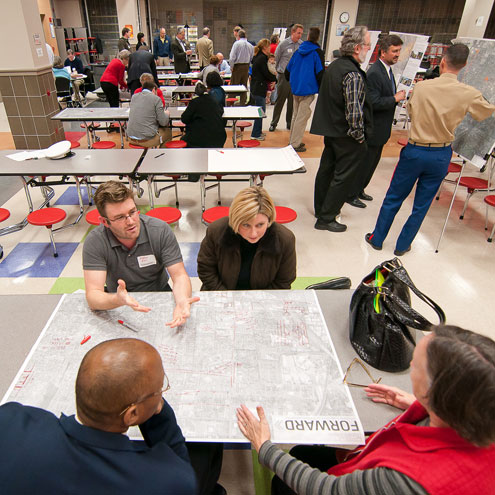 Tuscaloosa residents and city officials met yesterday at Central High School to discuss the rebuilding of the Rosedale and 10th Avenue areas and voice their opinions on the matter.
David Griffin, a member of the infrastructure taskforce for Tuscaloosa Forward, stressed that the public should remember that all of the plans at the meetings are conceptual and are designed for public input.
"We have a vision, but we are here tonight to get specific ideas," Griffin said. "Rosedale is more of a residential section as far as citizen needs and concerns."
Tuscaloosa Forward's officials mixed with experts from Almon and Associates, an engineering firm, and BNIM, in charge of planning. Two sets of three maps were set up, showing the plans for the areas, including the focus of the night: Rosedale and 10th Avenue.
Included in the plans detailed on the maps was a greenway that ran the length of the areas hit by the tornado. Many of the public present at the meeting had concerns about the greenway. This greenway would serve as a "path of remembrance" for the April 27 storm.
"A lot of people have the misconception that the greenway will go through their backyard," said Meredith Lynch, public relations coordinator for Tuscaloosa Forward.  "That is not the case at all. We want to work with citizens and get their opinions about its placement."
Lynch said the turnout of Tuscaloosa residents has been great, with quite a bit of input. She said that while the University takes up a lot of the city, the purpose of the meetings is to get negative and positive opinions from permanent residents because their input is important.
Darryl Matthews, a citizen who has friends in the Rosedale area, attended the meeting to get a better idea of what the city is planning.
"Plans seem to be at a standstill right now, but I think it is important to work on 10th Avenue because of its heavy traffic," Matthews said. "Beautifying that section would be great."
Other plans discuss for the Rosedale area include a village center surrounding a portion of 10th Avenue and a model neighborhood with planned separate housing.
Residents at the meeting were handed a questionnaire upon entrance that they were asked to fill out. Questions included ideas for how to memorialize the tornado victims, plans for recreational structures and troublesome traffic zones in the area.
Tuscaloosa Forward plans tentatively for another set of meetings during the week of Jan. 23, 2012.
One more meeting is planned for today at Forest Lake United Methodist Church at 4 p.m. Students are urged to call Almon Associates, Incorporated at 205-349-2100 for more information about the community meetings. Students may find more information about Tuscaloosa Forward and its various projects at tuscaloosaforward.com.