Campus crime not new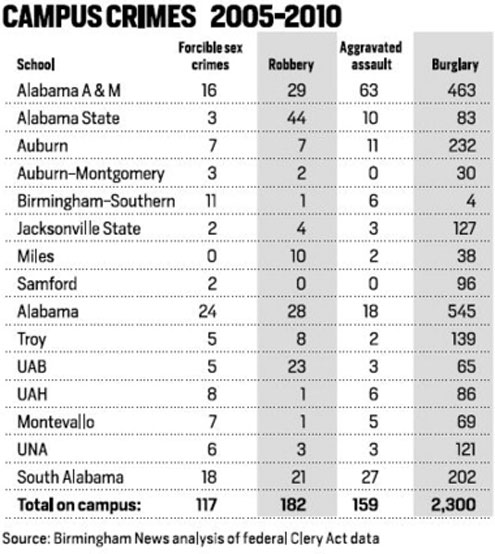 The University of Alabama had the most alcohol and drug-related arrests of any collegiate institution in the state, according to a Birmingham News analysis of the last six years of crime data reported by Alabama colleges and universities.
UA had 540 alcohol-related arrests and 308 drug-related arrests over the time period studied by the Birmingham News. Second-place Auburn University had 208 alcohol-related arrests and The University of North Alabama, second in terms of the rate of arrests per 1,000 students, had 55 alcohol-related arrests.
Students at the University of Alabama, the University of South Alabama, Alabama A&M and Birmingham-Southern College also reported the most sexual offenses on campus, the data reveals.
The 11 schools in the state that enroll the most students in higher education reported an overall 170 robberies, 119 aggravated assaults and 97 forcible sexual offenses on campus from 2005-2010.
The Clery Act requires all colleges and universities to report their campus crime data to the U.S. Department of Education annually and to disseminate campus security reports to students and employees by Oct. 1 of each year.
John Sloan, a professor in the Department of Justice Sciences at the University of Alabama at Birmingham and co-author of "The Dark Side of the Ivory Tower: Campus Crime as a Social Problem," said campus crime is nothing new but was elevated to a unique social problem in the late 1980s because interest groups held university administrators responsible for recurring patterns of campus crime and victimization.
"Campus crime – what we call 'violence, vice, and victimization' in our book – has existed since the founding of colleges and universities in the 17th century," he said. "It's not something that's suddenly appeared. In our book, we chronicle murders, rapes, riots and other forms of violence that were a routine part of college life in the 18th, 19th and 20th centuries."
The interest groups that set the bait for modern media to paint college campuses as hotbeds of criminal activity included: feminist groups holding campus administrators responsible for violence against women; parents suing post-secondary institutions for not instituting a proper level of safety measures for their children as students; and public health researchers sounding the alarm over the prevalence and dangers of binge drinking on college campuses, he said.
"What changed were peoples' perceptions, fueled in part by interest groups using the 24-7-365 news cycle to get their message out that the 'dark side' of the Ivory Tower threatened to topple it and take millions of young people with it," he said. "Thus, the creation of a new social problem."
Students who make a lifestyle out of partying open themselves to victimization.
"For violent victimization, we know that students who spend a lot of their time out partying, including abusing alcohol and drugs, are at a much higher risk of experiencing a violent attack than students who do not do this," he said.
He said the few parents and students who do take the time to read the campus security reports would not be better informed of a particular campus' level of safety by the numbers alone.
"The data that are available are raw numbers rather than rates per some unit population," he said. "At least with a rate, you can compare a small school with a large one since doing so controls for variation in population size.
"However, even if you are working with rates you still have to be careful when comparing, say, a Birmingham Southern College with UA. Clearly, the underlying dynamics associated with on-campus victimization are not the same at the two schools, and that matters greatly. The problem is such information does not appear in any of the Clery-mandated reports."
UA Police Chief Tim Summerlin said caution should be used when comparing the raw numbers released in the various campus security reports, because each college demographic and environment is different.
"Our campus is like a city within a city," he said. "You don't come through a big gate up front."
Summerlin called the University a large traditional college campus with a college-age generation of students mostly from ages 17-23. Of the approximately 32,000 students in the student body, 9,000 of that number lives on campus in either greek housing or residence halls, which contributes to on-campus disciplinary violations.
With the growth of the student body comes the simultaneous growth of the city of Tuscaloosa. As a bustling college town, the city of Tuscaloosa attracts students to stay for the weekend rather than driving home, which attracts more businesses and social events for weekend activities that can open a space for alcohol violations.
Gameday Saturdays, for instance, bring in about 125,000 people to the city, some of whom are non-students committing alcohol violations on campus, but are nonetheless tallied in the campus security reports.
"Those folks are not just here for the game; they come and stay with us for the weekend," he said.
To combat alcohol violations, the UA police exercise an educational role on top of their enforcement duties.
The community services division of UAPD directs educational programming for incoming students and parents in orientation sessions. Police officers are also assigned to geographical areas or residence halls throughout the year to keep office hours.
Large gatherings such as orientation are not the preferred venues for UAPD's educational programming.
"Sometimes at orientation, you're speaking to a body of 150-200 people, and it's not very personal and there's not a lot of dialogue where you can go back and forth, so we like to get in small groups where there's 20-30 folks or less," Summerlin said.
In 2009, UAPD changed the way alcohol violations on campus are disciplined. Rather than sending first-time violators to Tuscaloosa City Municipal Court, UAPD has UA concentrate students in alcohol education programs and community service, which has held repeat offenders to just below three percent.
"It's about making our students successful," he said. "Those types of behaviors impact long-term success. It impacts academic performance, it impacts matriculation and so forth if they don't learn to positively deal with alcohol and the responsible use of alcohol."