UPDATE: Document shows Riley resigned same day as Breitbart article published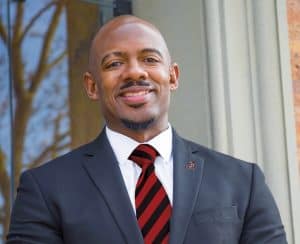 A document obtained by The Crimson White through a Freedom of Information Act (FOIA) request shows details regarding former dean of students Jamie Riley's resignation.
The Crimson White submitted a FOIA request at 6:43 p.m. on Thursday, Sept. 5, when news of Riley's resignation broke. The request, which covered dates from Aug. 25 to Sept. 5, asked for a copy of any and all contracts involving Riley and the University of Alabama, as well as any emails between Riley and the human resources department or UA employees regarding his position. Over one month later, on Oct. 11 at 2:04 p.m., Associate VP for communications Monica Watts responded with two documents. 
A document titled "Separation Agreement" lays out the terms of his resignation and is dated Sept. 4, 2019, the same day that an article on Riley's past tweets was published by Breitbart. 
Read the full agreement below:
The agreement states that Riley is to receive payments from the University as late as January 30, 2021 with a total amount of $346,200 received.
"Riley will receive one-fourth of his annual salary (approximately $43,750.00) divided into (4) monthly payments made on or before the last day of each month, with the final payment occurring on or before December 31, 2019. Each payment will be subject to applicable withholdings. The Fonteneau Firm LLC will receive a check for $3,800.00 for attorneys' fees and expenses. On January 31, 2020, Riley will receive a check for $175,000.00, less applicable withholdings. On January 31, 2020, Riley will also receive a check for $127,450 that will result in a 1099 being issued to him no later than January 30, 2021."
The agreement also states that Riley agreed to not publicly comment on the terms of his resignation. 
"Riley further agrees that he will not directly or indirectly make, communicate, post, or otherwise publish any disparaging, degrading, critical, or otherwise negative remark, comment, opinion, or statement regarding any of the Released Entities, unless compelled to do so by a court of competent jurisdiction."
Riley also agreed in the document to not pursue legal action against any current, future or former employees at the University.
"In consideration for the promises and benefits set forth herein, Riley, for himself and his heirs, executors, administrators, successors and assigns, agrees to and hereby acquits, remises, releases, and forever discharges and covenants not to sue or bring any administrative action for monetary damages against the University or any of the University's current, future, or former trustees, officers, employees, agents, servants, insurers, predecessors, subsidiaries, assigns, successors, contractors, affiliated entities, attorneys, or any other entities ("Released Entities") with respect to any and all claims, causes of action, or demands, known or unknown, that he may now have concerning, relating to, or arising from the Claim or his employment with the University of Alabama, or any other claims whatsoever that may hereafter arise or accrue that relate in any manner to or arise from the Claim or Riley's employment with the University of Alabama up to his Resignation Date."
The agreement also states that any discussions or communications related to Riley's resignation are "strictly confidential" and these communications will not be released. Traditionally, emails on University of Alabama email accounts are public record and are obtainable for FOIA request. 
"In consideration of the benefits and promises referenced herein, the Parties, hereby agree that the terms of this Agreement, any discussions or communications relating thereto, as well as any discussions or communications relating to the Claim are strictly confidential, and shall not be discussed, referred to, or communicated by either Party or their lawyers to any other person or entity, or in any way publicized, disclosed, distributed, discussed or disseminated by the parties, either by name or anonymously, by any media format of any kind, including, without limitation, text messages, e-mail, Internet postings, postings on social networks such as Facebook, or Twitter, or fictional accounts based upon the contents or subject matter of the proposed litigation, unless expressly required by law, written court order, or subpoena to do so." 
Watts also returned Riley's offer letter, which was dated Dec. 10, 2018. In the contract, Riley was directed to David Grady, the former Vice President of Student Life, for any questions regarding his role. Grady had the final decision on Riley's hire. 
On July 26, UA News released an announcement of Grady's resignation. Since then, the University has not provided further comment on the details of Grady's departure. On Oct. 10 at 2:16 p.m., The Crimson White submitted two FOIA requests regarding details about Grady's departure and any emails detailing concerns about Riley. 
The Crimson White reached out to university spokesperson Chris Bryant on Friday, Oct. 11 and received no response by the time of publication. This story will be updated as more information is revealed.