'Only the beginning': Activists push for a more inclusive campus
September 23, 2019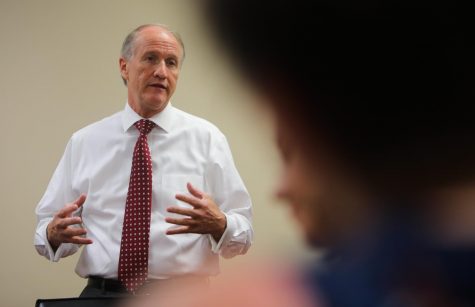 After 12 days of silence, the response finally came.
In an email to UA students and employees at 3:23 p.m. on Tuesday, Sept. 17, UA News issued a message from the president meant to address several concerns that were voiced in town halls, sit-ins, local and national media, written statements and private and public meetings since the Sept. 5 resignation of former dean of students Jamie Riley.
The letter, signed by UA President Stuart Bell, read as follows: 
The University of Alabama is committed to foster and support a diverse, equitable, and inclusive environment for our students, faculty and staff. We have been very purposeful in our efforts to make sure all voices and viewpoints are welcomed, heard and encouraged.

In recent days, I have met with students, faculty and organizational representatives who are disappointed in some of our efforts and feel strongly that more must be done. Our vice presidents of diversity [G. Christine Taylor] and student life [Kathleen Cramer] have heard the same strong sentiments in the conversations they have been leading. While numerous meetings and town halls have been held and more will be scheduled, what matters most is how we respond and address these concerns.

The full resources of our great university are focused on this effort. You have my personal commitment that we will continue to take what we hear and learn from you to move The University of Alabama forward.
The letter acknowledged a failure on behalf of the University of Alabama administration to ensure an inclusive campus environment "in recent days" and insisted that listening to the concerns of students and faculty was key to moving forward. But, while the message read as an affirmation that the University will take these concerns seriously, some have questioned its authenticity. 
'Change is Now'
On Thursday afternoon, two weeks after news of Riley's resignation broke, Bell was attending a United Way luncheon at the President's Mansion before heading over to Rose Administration for his next appointment: responding to students who had staged a march to demand diversity, inclusivity and free speech on campus.
You can view a livestream of the march below.
Over 100 students, including some faculty and staff, participated in the march, which was rescheduled from 1:30 p.m. to 3 p.m. that day. Attendees, some marching with signs that read "Stop riding the fence" and "I deserve a seat at the table," marched from the former dean of student's office to Rose Administration, where they presented a list of demands to senior leadership. 
Bell addressed the march with a speech just under a minute long, thanking students for coming out and reassuring them that administration was taking their concerns into consideration.
"Know that I am listening to you, and I appreciate all that you do," Bell said to the crowd. 
Immediately following these remarks, Bell stepped back inside the Rose Administration building. 
"Are you not even going to listen to us?" one student yelled as Bell walked back inside. 
Farrah Sanders, a senior majoring in news media who helped organize the march, proceeded to read a letter addressed to the administration with concerns regarding feelings of exclusion and inequality on campus, unfair conditions to the right to freedom of speech and a lack of transparency between the administration and the student body. 
The University has consistently declined to comment on Riley's status, each time citing a "mutual agreement" to not disclose details. Since the event, several students and faculty have noted that legal implications don't excuse a failure to reaffirm values of or plans to ensure freedom of speech and inclusion on campus. That's why, for Sanders and for many at last week's SGA meeting, saying Riley's name was important. 
"It is important to acknowledge this situation as a catalyst for the following events and concerns," Sanders said. "Unfortunately, this left students, faculty and staff to try and fill in the blanks ourselves… This situation has left students, particularly students of color, feeling betrayed and misunderstood."
Sanders stressed the need for the University's leaders to follow through on their promises, rather than simply hearing the concerns of students and faculty. 
"We need to know that you're working on these resolutions, we need to know that at the end of the day it may not come swiftly in the night but that it will come soon, and change is necessary," she said.
Sanders ended her address with a request of her audience, noting the SGA meeting that would be occurring later that evening. 
"You have a seat at this table," she said. "Make it known." 
After the march, SGA President Harrison Adams and other administrators quickly returned inside. 
Adams said he could not speak to Bell's early exit, but he said he looked forward to working with the Faculty Senate to work on inclusion initiatives. He also encouraged students to attend the SGA meeting that night, in which another resolution would be introduced to encourage the University to reaffirm free speech on campus, this time with his mark of approval. 
"We don't know all the facts, we don't know anything regarding the circumstances of his departure, but at the same time, we do know that, obviously as you've seen today, that there was an impact that he made on students here," Adams said, noting the importance of including Riley's name, which was a point of contention at the previous week's meeting.
— Rebecca Griesbach (@rebach97) September 19, 2019
Outside, some students expressed their disapproval of what they felt was yet another half-baked response by administration, but specifically Bell. 
"I was a little surprised that Dr. Bell chose to come out, say something in front of the media and then immediately leave and not hear what the students had to say," said Isabelle Beauregard, a graduate student in women's studies. 
For junior Jazmin Watson, Bell's response was "belittling and demeaning."
"This was supposed to be a dialogue, and it was as if [Bell] was talking at us and not with us," she said. 
UA senior Udonna Simpson, who urged SGA senators to sign a free-speech resolution in its entirety the week before, said she refused to acknowledge Bell's full title, arguing that "Mr. Bell" was not acting as a leader. 
"I think that we showed him the respect to allow him to talk and he basically told us, in simple terms, 'F*** what y'all got to say,'" she said. 
But, for Simpson and others, Sanders' closing remarks acted as a call to action.
"This is only the beginning," Simpson said. "… Dr. Martin Luther King, Jr. best said, 'Change never happens by the oppressor, it always happens by the oppressed. We are the ones being oppressed, so we are the ones that have to make the change"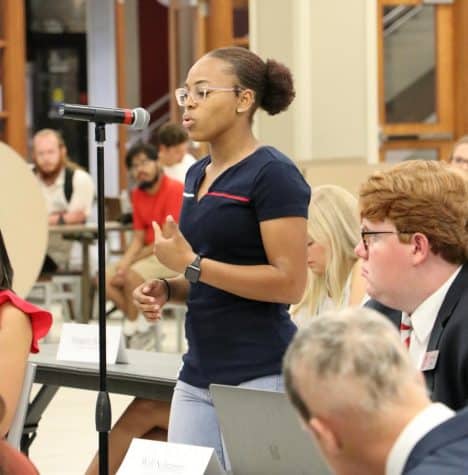 'A Second Chance'
Following the march, many participants headed to the Ferguson Student Center to attend the SGA Senate meeting, hoping for a different outcome than last week's meeting. About 100 members of the public filed into seats set up in the Ferguson Center dining area, which was booked by the SGA a couple days earlier in anticipation of the large crowd. Interim vice president of student life Kathleen Cramer and Ruperto 'Toti' Perez, the associate vice president of student health and wellbeing, were also in attendance.
Last week, the SGA senators passed R-42-19, a resolution to reaffirm The University of Alabama's commitment to protecting the freedom of speech for students, faculty and staff. However, the resolution was passed only after clauses four, five and six were removed from the resolution, one of which directly mentioned Riley's resignation.
The clauses that were removed cited House Bill 498, which requires public colleges and universities to enact policies protecting freedom of speech on campus. Senator Ellen Walton, representing the college of commerce, noted that this bill does not go into effect until July 1, 2020, and requested that the three clauses be removed. 
This week, the resolution altered to once again include a clause mentioning Riley, listed as R-45-19, was introduced for another vote. 
You can view the full livestream of the meeting below:
At the start of the meeting, the floor was open for public comments, during which 13 members from the audience spoke in favor of the resolution, their responses varying between legal arguments, testimonies of their encounters with racism on campus and examples of the University's continued dependence on the labor of black people. 
One student said she and her roommate were walking to their dorm when a group of people in a vehicle yelled out at them, calling them n****r b*****s, then shot the two students with paintball guns before driving away. 
Sanders noted that the people who fired the paintballs were not students at the University, but asked the SGA senators to consider why the perpetrators felt they could commit such an act on campus.
"We need this resolution because we need to be asking ourselves why did those people feel safe enough to do that on this campus," Sanders said. "Why did they feel like this was a comfortable enough action that they could get away with and do on this campus to students of color? These are young people we need to be protecting."
Summer Richardson, a junior majoring in marketing, spoke of her experience as an Al's Pals mentor when a black third grade student told her that he had often wished he was white because he sometimes feels scared to be himself. Richardson noted other black students, faculty and staff may be worried about speaking out on Riley's resignation out of fear of losing their position or being viewed as "an angry black woman" or putting their futures in jeopardy. 
"Being black is truly hard and a third grader was even able to see that," Richardson said. "If you can't see it, just try to believe it." 
Jack Kappelman, arts and sciences senator and author of R-45-19, spoke before the resolution went to vote, telling his fellow senators they had a chance at redemption after gutting key clauses of the resolution at last week's meeting. 
"The unacceptable failure of the Student Government Association Senate to take decisive action and provide genuine leadership to the students that we supposedly represent will not be forgotten," Kappelman said. "Those of you responsible have a lot to answer for and a lot to think on."
Following Kappelman's speech, Katie Ray, a senator for the college of engineering, announced the resignation of Devon Longstreet, a senator for the school of social work, and read a letter on his behalf that addressed R-45. 
In his letter, Longstreet expressed his disappointment at how the free speech resolution was gutted last week. He noted that he used to be proud to be a senator, to be part of something bigger than himself. Now, Longstreet wrote he "could not be more disappointed" in the actions of the SGA and told the senators they are letting down the very students who voted them into office. 
"This is far bigger than any one organization, faculty member or student," he wrote. "This is about what we want our university to be and to ensure the preservation of rights for all people on this campus. Remember, each of you are students serving students."
In contrast to the two roll-call votes cast after R-42 the previous week, all resolutions passed with zero opposing arguments. 
You can view the full docket below.
What's Next? 
In a statement, SGA press secretary Jackson Fuentes stressed the organization's renewed commitment to diversity and inclusion, noting that it is the only SGA in the state that has an "executive office dedicated exclusively to diversity, equity and inclusion." He also cited new programs such as the multicultural leadership council as well as DEI certification workshops – one of which will be held in the Ferguson Center Ballroom on Wednesday, Sept. 25 at 6 p.m. 
"UA SGA believes all students should feel at home on our campus and we sympathize with those students who have felt hurt over the past weeks," he said in the statement. "We look forward to acting on Resolution R-45-19 alongside the student body and we encourage students who want to engage on these topics to participate in and attend these and other initiatives that make our campus a more diverse, equitable and inclusive place."
But, while the vote that night was unanimous, the level of applause wasn't. As the audience on the right side of the Senate floor boomed, claps were minimal in the front row where Walton was sitting. 
Over the past week, national media such as the Chronicle of Higher Education and The New York Times has had their eyes on Alabama, including the SGA. That, combined with the outpouring of public comments, left Kappelman wondering how serious his fellow senators were about changing the organization, rather than just saving face. 
Following what was technically a victory, Kappelman found himself echoing Simpson's sentiment that there was much more work to be done. 
"As a government institution, it's also up to the people to say that the government isn't working for them and to demand a change in their government, and honestly, I just don't know how I feel about SGA anymore, and if it's an institution worth saving and fighting for," he said.
CW contributing writers Madison McLean, Alex Tisdale and Gerardo Aguilera and staff reporter Jeffrey Kelly contributed to the reporting of this story. 
Editor's Note: Some minor changes in layout were made on Tuesday, Sept. 24.