Tuscaloosa residents hold vigil for detained immigrants
Sharon Nelson had never marched for a cause, had never held a picket sign and had certainly never organized a 100-person protest a day in her life. 
Until last Friday, when she and other Tuscaloosa residents joined hands with more than 600 communities around the world in a candlelight vigil for immigrants being detained at the U.S. border. 
"When the reports started coming out that they were not allowing people to bathe or brush their teeth… I don't understand, this is not the America I know," Nelson said. "We wouldn't let dogs be treated that way. We certainly shouldn't let people be treated that way."
The reports Nelson is referring to detail a team of attorneys' recent observations of poor health conditions and neglect of unaccompanied minors inside detention centers on the southern U.S. border, which have led many to refer to the camps as "concentration camps." The allegations were made in late June, which prompted Elizabeth Cronise McLaughlin and attorney Toby Gialluca to form Lights for Liberty: A Nationwide Vigil to End Human Detention Camps, a campaign to inspire people around the world to take action. 
Nelson said she felt called to join a global cause. 
"If not me, then who is going to do it?" she said. 
Nelson connected with McLaughlin through Facebook, where she also met Judy Taylor, a local Moms Demand Action representative who's been protesting since the 60s. They're both members of the Kudzu Coalition of West Alabama, a local progressive organization that was founded just before the 2016 presidential election. Taylor, also part of The Sisters, a small group of Tuscaloosa women who help fund events like these, has had her share of experience being in Nelson's shoes. 
The plan Friday evening was to gather at Government Plaza in downtown Tuscaloosa and walk to the federal courthouse across the street. That night, while Nelson manned a sign-up and handed out candles, Taylor set up a booth beside her, opposite a table where organizers were registering people to vote. 
THE VIGIL
Around 8:45 p.m. a flock of people with flickering candles, some using their phones as flashlights, lined up at the stage-end of the plaza, where locals dotted the greens with lawn chairs to enjoy one of the city's summer concerts. 
Kyle Cox, a senior studying audio production and marketing, was listening to the band Orange Constant perform at Live at the Plaza, when he said a woman in a red shirt approached him and his girlfriend, Brantley Crawford. 
It was Taylor. 
"[She] came up and started talking to us about the concentration camps along the south border of the States and how kids are being separated from their parents and being held against their will, and I just thought that was wrong," he said. 
As they neared the courthouse, the group grew to 94, including Cox and Crawford and their two labradoodles Ollie and Reese, who joined in when they saw a trail of lights making their way through the crowd. 
"What do we want?" Cox and Crawford chanted with the others. "Close the camps! When do we want it? Now!"
Some participants held torches resembling the one held by Lady Liberty. Two participants held a sign for Grace Presbyterian Church, which Taylor is a part of.
"We believe that human rights are paramount and that all people have the right to justice and equitable treatment," Taylor said. "We think that if you are Christian, then you must live your faith, and it's shown by the way you treat others."
Rev. Cathy Hoop, a minister at Grace Presbyterian, noted that while several bystanders applauded the group, some were dismissive.  
"You're standing there with a child in your arms," she said, referring to a woman who inquired about the event and then walked away. "This is about children being taken away from their parents. Children who are just victims, innocent victims."
A LOCAL ISSUE
Attendee Martha Morgan, a retired UA law professor, said that problems at the border aren't as distant as they seem. Last week, news reports revealed plans by U.S. Immigrations and Customs Enforcement to raid migrant families across the country, starting Sunday. In Alabama, remnants of H.B. 56, which was at one point the nation's harshest immigration bill, are still on the books. 
"Those threats are close to everybody's hearts," Morgan said. "We're hoping that they won't happen locally or anywhere, but we know from past experience that it may."
Taylor said she feels like she hasn't left the Birmingham streets that she marched on over 50 years ago. 
"Is it worse now? Yes," she said. "Do we have for-profit prisons down there, and are they making a fortune? Yes, $750 a day per person. 50,000 people in detention. It only costs $90 to put them in a municipal jail. So who's making all that money, and who voted for it?"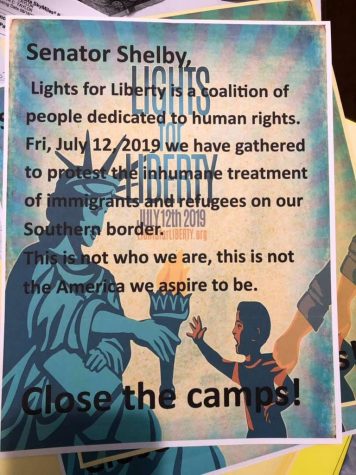 According to data obtained by NBC News and from the Federal Bureau of Prisons, Taylor's right. The average cost of incarceration per year was about $36,000 in 2017, which amounts to about $100 a day. According to a 2018 report, Department of Health and Human Resources officials told NBC that the price of holding undocumented immigrants in detention centers was over seven times higher. 
"There is a lot of injustice, and it's ridiculous that we can't do anything about it," she said, punctuating those last words by tapping on one of the park benches under the shadow of a towering City Hall. "When you get your payroll check, just wave at it, 'cause it's your tax dollars." 
That's why she and Nelson, who had met in person for the first time the day before the vigil, are now planning to hand-deliver a written statement, news articles and any other information about the crisis at the border to Alabama senators Doug Jones and Richard Shelby. 
"It's time they understand that we are their employers," Taylor said. "Their employers. And they need to do our bidding. An America that has a concentration camp for children is not my idea of America, and I'm gonna stand up and say so." 
For Nelson, no longer a rookie, the event surpassed her expectations. 
"I needed to find some way to stand up and be recognized, and to let our community know that first of all they're not alone," she said. "Sometimes it can feel that way in a very red state. But we're not alone. There's a lot of us out here that think the same way. Seeing a nice, diverse crowd come out, that was great. I'm, I'm just glad."