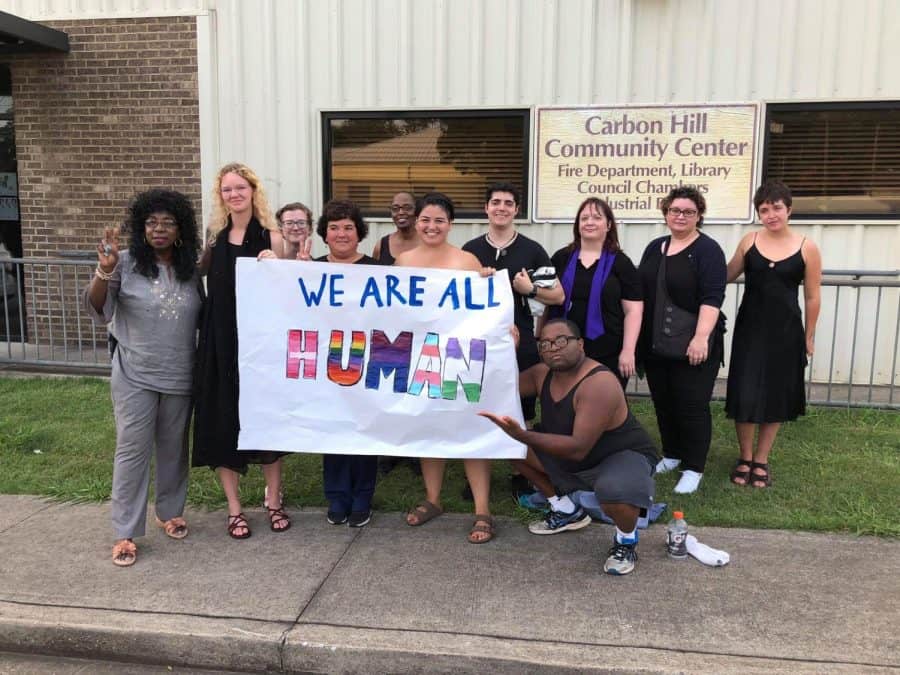 Protesters staged a "die in" on Monday evening in response to a small town mayor's online comments advocating the killings of gay people, transgender people, "baby killers" and "socialists."
About a dozen protesters wore all black and marched to the lawn across from city hall, where they all then laid on the ground motionless to mimic dead bodies, a form of protest called a "die in," in an effort to pressure Carbon Hill mayor Mark Chambers to resign. 
Rawsy McCollum, a longtime resident of Carbon Hill, said Chambers' comments were a "scar" on the city that cannot be removed and that anyone who cannot equally represent all of their constituents does not belong in public office. 
"The mayor and the council took an oath to uphold this city, to excel and to treat everybody equally, not to kill the ones they don't like because of their sex preference or their race," McCollum said. "As far as I'm concerned, anybody that makes statements like that that's holding public office should hand in their resignation." 
Some of the organizers were able to meet with Chambers before the city council meeting and voice their demands. They said that Chambers was willing to consider a nondiscrimination ordinance to protect the LGBTQ community but he would not resign. 
During the meeting, the council voted to accept the resignation of council members Chandler Gann and McClain Burrough. An explanation for their resignations was not stated. 
Savannah Miles, a member of Hometown Action, an Alabama social justice group, said she appreciates the council members that stepped down, calling their resignation a sign of "solidarity" with those who are offended by Chambers' remarks. 
"I appreciate those city council members for standing up and supporting all of us," Miles said "That's true leadership."
Tuscaloosa residents turned out for the protest, including Andrea Hayes, one of the organizers of the event. Hayes said she felt compelled to attend to hold Chambers' accountable for his comments.
"Yes, it's not our county or our city, but it is in our state, and it gives us terrible national attention when comments like this continue to go unanswered and the people who say these things are allowed to keep in power," Hayes said. "Our state is not a homophobic, racist or terrible state. We do have veins of that coursing through our state, but it is a loving state and a beautiful state with people from all walks of life." 
James Roberts, a graduate from The University of Alabama, said he came to the protest because he does not want people who are part of a minority group to worry about their safety in Alabama and that he shares Hayes' concerns of Alabama's reputation being damaged by Chambers' comments. 
"In this day and age, we need to cut this ridiculousness out," Roberts said. "I'm sick of seeing this all the time. I'm sick of Alabama being painted as this giant national embarrassment in front of not only the rest of America but the rest of the world." 
After the meeting, tensions boiled over as crowd members shouted at Chambers to address his comments, some shouting, "How would you kill me?" and, "No justice, no peace." Many of the attendees began to chant, "Resign Mayor Chambers" as he left the building. 
While walking to his vehicle, Chambers told reporters that he will not resign his position and he may run for reelection.