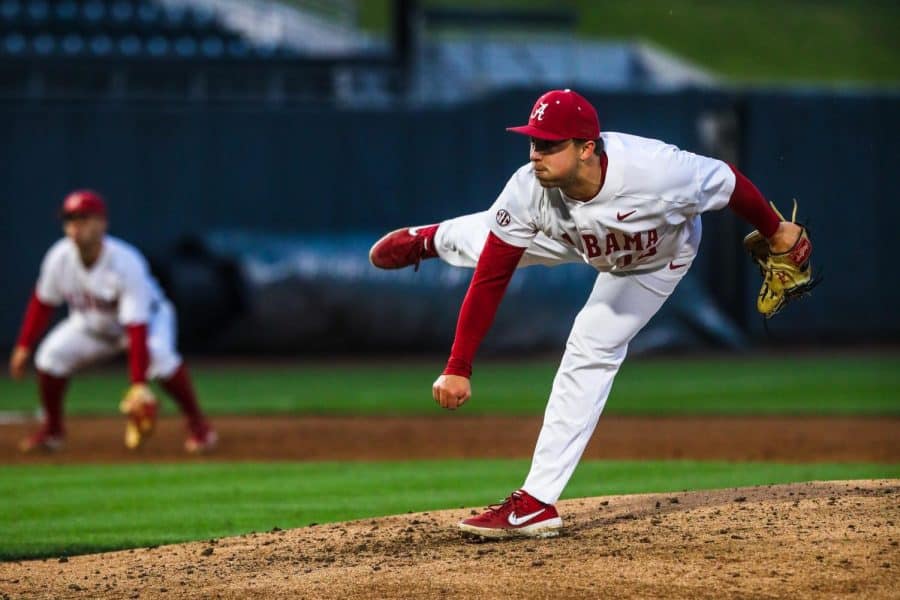 The fifth inning was the difference in Alabama baseball's 7-4 loss to Vanderbilt on Friday.
With the game tied at two, Vanderbilt led off with a double by Ty Duvall. He scored two batters later on a single by Austin Martin. After a fly out, Martin scored on an Ethan Paul double. He scored a couple pitches later when Philip Clarke singled, giving the Commodores a three-run lead.
Alabama cut the lead down in the bottom of the inning. Johnny Hawk led off the inning with a walk, and after a pair of outs, T.J. Reeves reached first on an infield hit. With runners on the corners, second baseman Morgan McCullough pulled a 1-2 pitch down the right-field line for a double, scoring both runners.
The Commodores added a run in the top of the sixth when Martin singled to second, driving in the runner at third.
It plated the final run of the game in the ninth inning when Paul hit a solo home run to left field.
Vanderbilt threw its ace Drake Fellows, who came into the game with a 7-0 record and 3.18 ERA. The junior threw seven innings and allowed all four Alabama runs, which is the most runs he's allowed since March 8.
"Drake Fellows has been in the league for a while and is pretty experienced," coach Brad Bohannon said. "But there's no time for moral victories… We need to win. We need to beat good teams."
Alabama starter Sam Finnerty allowed six runs off nine hits against one of the SEC's best offenses.
One of Alabama's biggest struggles on the mound is facing left-handed hitting. Ten of the 14 Vanderbilt hits came from the left side, including three-hit games for Paul and Clarke. All six of the Commodore extra-base hits were by the left-handed hitters.
"You have to have some left-handed breaking balls to offset those guys and or some right-handed changeups," Bohannon said. "I thought the guys that pitched tonight competed well and did a pretty good job. That's just a tough matchup for us."
Overall, Alabama finished with six hits and three walks. Keith Holcombe was the only player with multiple hits, while McCullough and Joe Breaux knocked in all four runs. Breaux knocked in Alabama's first two runs of the game with a two-run home run to right field in the second inning.
Overall, the Crimson Tide stuck out 10 times for the sixth time this season. The Commodores have now struck out more than 10 batters 24 times this year.
Game two will be at 8 p.m. on Saturday. Brock Love will start for Alabama, while Kumar Rocker starts for the Commodores.