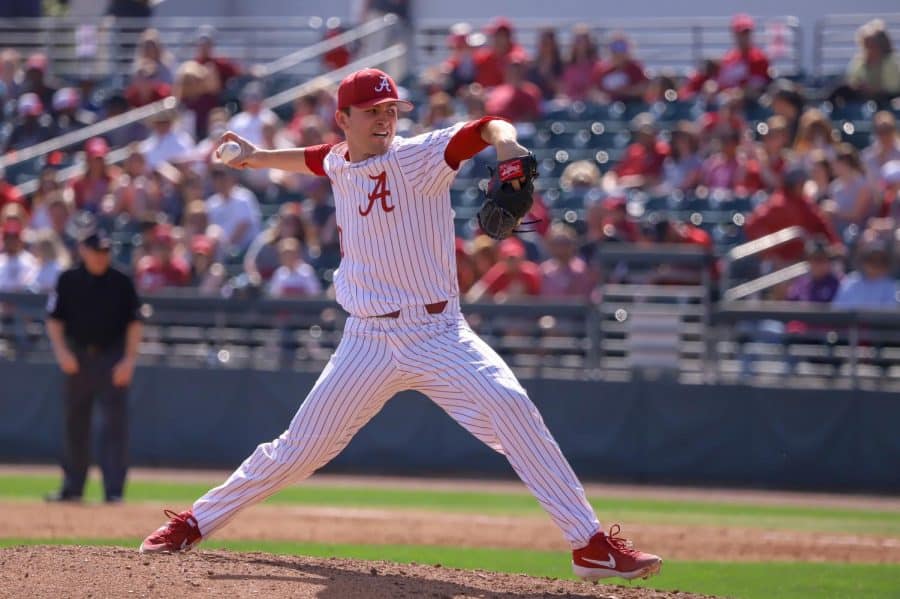 After getting trounced in Friday night's game, Alabama baseball defeated No. 9 Arkansas 10-0. It was the first time since April 6, 2013 that the Crimson Tide shut out the Razorbacks.
"We beat a very good team," coach Brad Bohannon said. "Arkansas is a very good and very worthy of their ranking… Really, really pleased with the effort and excited to come to the park tomorrow with a chance to win a series against a top-10 team with a pretty fresh bullpen."
Alabama jumped on Arkansas starter Connor Noland in the second inning. It started with Keith Holcombe, who slapped the 2-1 pitch over the left-field wall for his third home run of the season.
With two outs and a runner on first, Alabama third baseman Kobe Morris singled to right field. Joe Breaux drew a walk to load the bases for Kolby Robinson.
Robinson faced a 1-2 count and hit a bullet towards the third baseman. The ball took a sharp hop and went to left field, scoring two runs.
The game remained 3-0 till the bottom of the sixth. Tyler Gentry started the inning with a single, followed by a Holcombe double. Brett Auerbach singled up the middle to bring in the first run of the inning.
Arkansas made a pitching change from there, which proved to put the game out of reach. The Razorbacks brought in Patrick Wicklander, who threw just 16 pitches. Of those 16 pitches, only four were strikes as he walked the three batters he faced. Two of the three walks drove in a run.
After Wicklander's third walk in as many batters, Arkansas went to the bullpen again and brought in Zebulon Vermillion, who allowed a pair of singles and a sac fly.
Overall, Alabama scored six runs in the inning.
In Friday's game, Alabama struck out eight times and walking just three. On Saturday, The Crimson Tide drew seven walks and struck out twice.
"It felt like we had a better approach in the box," Robinson said. "Just all throughout the lineup, just trusting the guy behind you, not trying to do too much."
After having one of its worst days of the season, Alabama's pitching staff bounced back.
Brock Love started and went 5 1/3 innings. He threw 83 pitches and allowed two hits and three walks. He finished with the win, which was his third of the year.
"It was good to get out there and pitch well," Love said. "It makes it a lot easier to pitch if you have hitters putting up a three spot in the second."
Brock Guffey came in after him, and had a similar final line, throwing 2 2/3 innings. He allowed two hits, while striking out a pair of Razorbacks. Connor Shamblin finished the game. He allowed a walk and struck out a batter in his lone inning of work.
The series finale is Sunday at 1 p.m. Wil Freeman is the projected starter for the Crimson Tide.