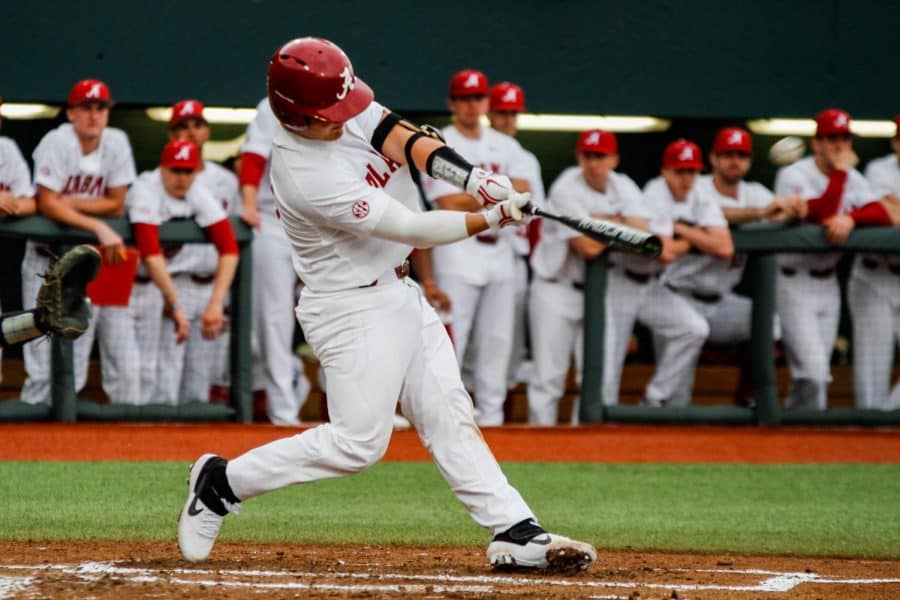 Two years ago, Alabama baseball opened its season with Presbyterian. That season opener finished in a 4-3 win for the Crimson Tide. It took Alabama till the bottom of the second to surpass that run total in its 7-2 win to open the 2019 season.
Catcher Sam Praytor started the scoring in the bottom of the first inning, when he launched a 3-2 fastball over the left field fence for a two-run home run.
"Me and coach [Brad Bohannon] actually have just been talking about me trying to find my pitch to hit," Praytor said. "That was all I was thinking about in my first at-bat. I was lucky enough to work it back into a fastball count. He threw it, and I swung as hard as I could."
In the following inning, the Crimson Tide put a pair of runners on with a hit-by-pitch and a walk. After a flyout that advanced right fielder Tyler Gentry to third, shortstop Kolby Robinson slapped a single to left field, plating one of his two RBIs.
Robinson scored two batters later when third baseman Brett Auerbach drew a bases loaded walk.
Overall, eight of the nine starters to bat finished with a hit. The lone exception was left fielder Justin King, who scored twice on a pair of walks.
"Obviously a lot of hard contact throughout the lineup," Bohannon said. "We had five different guys drive in runs. Really pleased and a good starting point for us."
Robinson and center fielder Joe Breax each finished with three hits. They were two of four players to finish with multiple hits.
For the second-straight season opener, right hander Sam Finnerty got the starting nod. The senior threw 74 pitches over the course of five innings. He allowed eight hits, leading to a pair of runs and struck out three Blue Hose in the win.
"He's very consistent, probably the most consistent pitcher I catch," Praytor said. "Spots up with his fastball, gets ahead early. Doesn't get many strikeouts, but he gives us a chance to win every time he pitches."
Right handers Wil Freeman and Chase Lee came out of the bullpen to finish the game. Freeman went three innings and allowed three runers (two hits and a walk). Lee pitched the ninth, striking out two of the three he faced.
For Presbyterian, right fielder Nick Guimbarda finished 1-for-3 with a solo home run down that landed in the second row of the right-field student section.
The Blue Hose starter Andrew Durden went just 3 and 1/3 innings, allowing all seven runs off eight hits. He walked three and hit a batter, while striking out one.
The Crimson Tide will play a double header on Saturday to finish the series. Freshman Tyler Ras starts game one, which starts at 1 p.m.