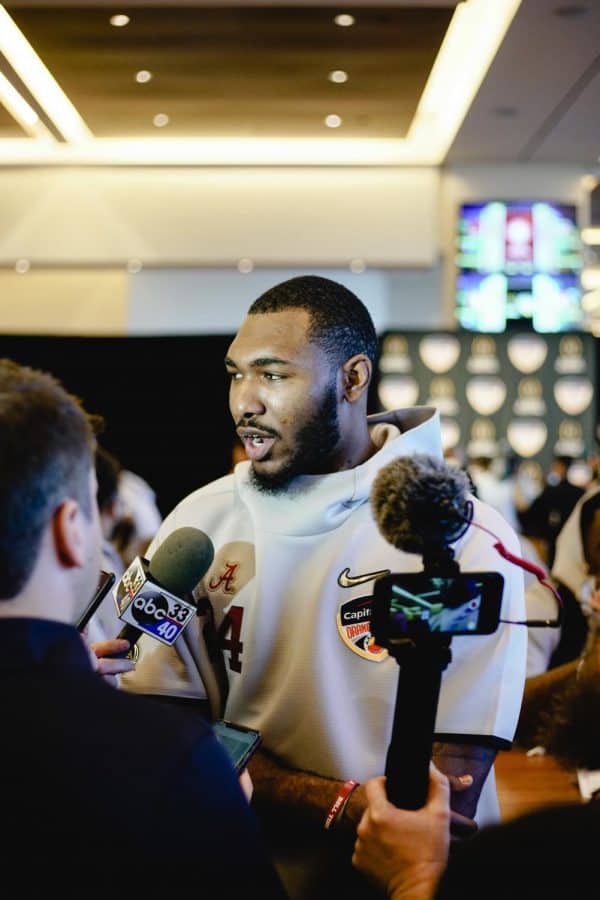 FORT LAUDERDALE, Fla.— The last time the 6-foot-5 outside linebacker saw the field he accounted for seven tackles, six solo, and a sack in the national championship game against Georgia. Then on July 10, Terrell Lewis tore his ACL, sidelining him for the entire regular season, possibly the full bowl season.
But hope wasn't out for the junior pass rusher, as he worked his way back to practice starting the week of the SEC Championship.
"I'm feeling good," Lewis said after the SEC Championship game. "Just getting back right, feeling stronger [and] moving well, so the process has been going really well for me."
It's been about five and a half months since Lewis tore his ACL, but his recovery has gone by faster than most people would have expected.
"To most people that would be very surprising, but Terrell is just an absolute freak," tight end Hale Hentges said. "He does everything beyond expectations. When you look at him you think 'man this guy is a monster.' He looks like he's out of some kind of movie."
His recovery backs up the freak nickname that most of his teammates describe him as.
It started just three days after his surgery, when a video was posted on Twitter showing the outside linebacker lifting his leg unassisted.
TERRELL LEWIS ALABAMA!!! CUT FROM A DIFFERENT CLOTH. #MM @_Real24_ pic.twitter.com/rxMYWT19p3

— MONSTER MAKER (@MonsterMaker_1) July 14, 2018
On Sept. 17, Lewis posted a video of him jogging on an anti-gravity treadmill, which helps take a percentage of the user's body weight off him when using it.
https://twitter.com/_Real24_/status/1041833748021567488
The next step was putting on pads and going through practice. He dressed out for the SEC Championship game, even though he was not going to see action.
"It was a bittersweet feeling being out there with them, knowing that I can't do everything with y'all, but it's a sweet feeling being out there with my teammates competing with them a little bit."
Lewis isn't a stranger to potential season ending injuries. Last season, he tore his bicep in Alabama's season opener against Florida State. At the time, it was believed he would miss the season, but he worked his way back to the field in time for the Iron Bowl.
He finished with 11 tackles in the last three games of the 2017 season and was primed to have a breakout year, that could have potentially led to the NFL.
Back-to-back potential season ending injuries would discourage a lot of people, but Lewis's teammates wouldn't let him get down.
"Just want the best for him," center Ross Pierschbacher said. "He's worked hard to get back. Just excited for the guy. He puts his hat on every day and just goes to work."
The former four-star recruit is a terror of opposing blockers, which Hentges has experienced for parts of the last three years.
"This guy has the longest arms I've ever seen; his arms are bigger than my thighs," Hentges said. "You just need to think about getting your hands inside really quick and try and get leverage before he gets his hands on you and hold on."
The injuries never killed Lewis's fire, which he proved when he announced that he would return for the 2019 season.
"I never let what people say about me mark my destiny," Lewis said. "I know what I'm capable of; I know my body. I know the things I can do."