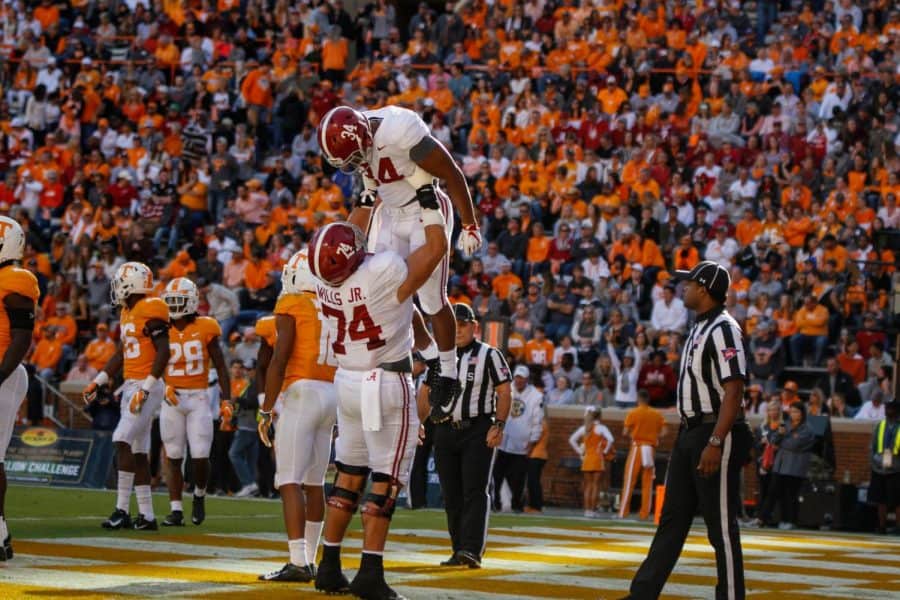 KNOXVILLE, Tenn– No. 1 Alabama continued its winning streak to 12 games over Tennessee with its 58-21 win. The Crimson Tide put up 545 yards of total offense, while holding the Volunteers to just 258.
Play of the game: Tua Tagovailoa dropped a deep touch pass over two Tennessee defenders to freshman receiver Jaylen Waddle, who sprinted past everyone for a 77-yard touchdown.
Offensive player of the game:
Cody Estremera: Tua Tagovailoa
James Ogletree: Tua Tagovailoa
Defensive player of the game:
Cody Estremera: Quinnen Williams
James Ogletree: Xavier McKinney
Fan players of the game:
Offense: Tua Tagovailoa
Defense: Quinnen Williams
Notes:
Alabama scored a touchdown on its opening drive for the eighth time in eight games this season. This was the longest drive of the eight, occupying 4:02 of game time with nine plays. On the touchdown Tua Tagovailoa had plenty of time, moved around in the pocket and tossed a perfect precision pass to Jerry Jeudy, the tenth touchdown between the two this year.
Xavier McKinney crushed Tennessee quarterback Jarrett Guarantano on the third play of the Volunteers' opening drive, forcing a fumble that was recovered by Christian Miller. Josh Jacobs found the end zone two plays later, extending Alabama's lead to 14-0 within the first five minutes of the game.
On the first play of Alabama's next drive, Tagovailoa threw one of his best passes of the season to Jaylen Waddle on a crossing route. No one could catch Waddle down the sideline as he streaked his way to the end zone for a 77-yard touchdown.
Damien Harris capped a nine-play, 93-yard drive with a 3-yard score. The Crimson Tide led 28-0 with 3:31 left in the first quarter.
Jacobs scored again late in the second quarter from two yards out. It was his eighth touchdown this season and marked the third multi-touchdown game of his career.
On the first play of the second half, Tennessee quarterback Keller Chryst tripped and fell into his own end zone, resulting in a safety for Alabama, its second in two games. That made the score 44-14.
Tennessee's Jauan Jennings finished with 102 receiving yards on six catches, becoming the first player with 100+ receiving yards against Alabama since last year's Iron Bowl.