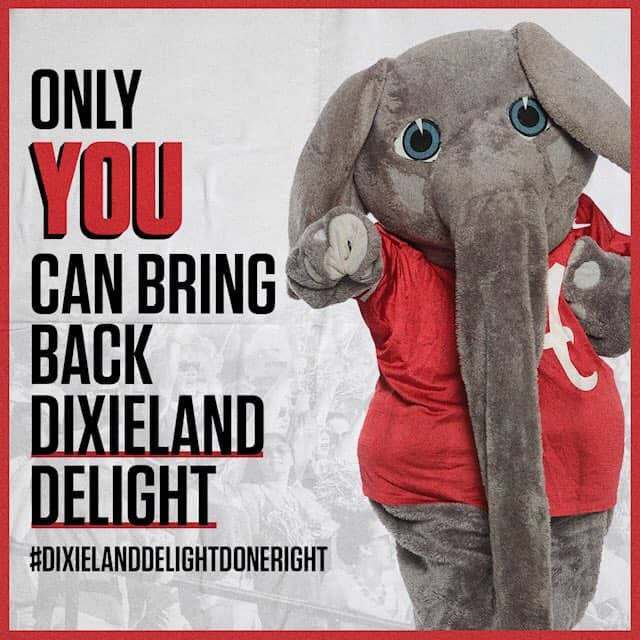 After three years of fans, students and players asking for its return in the fourth quarter of every home game, "Dixieland Delight" will be played at Bryant-Denny Stadium this Saturday during the homecoming game against Missouri.
Athletic Director Greg Byrne broke the news on Twitter on Wednesday night with a video including Terry Saban, SGA President Price McGiffert and running back Damien Harris.
"I'm here to say, we are freeing 'Dixieland Delight,'" Byrne said.
The video announcement ended with a still image reminiscent of the Smokey the Bear "Only you can prevent forest fires" ad campaign. The image featured Big Al with text which read "Only you can bring back Dixieland Delight. #DixielandDelightDoneRight."
Dixieland Delight, a song by a band called Alabama, was banned from the stadium after the 2014 Iron Bowl where students chanted "F— Auburn" for the duration of the three minute and 56 second song.
Students will now be asked to sing "Beat Auburn" instead. Other changes will include "Roll Tide" in lieu of other lines.
The new lyrics will be shown on the scoreboards and video ribbons of Bryant-Denny Stadium, indicating the correct lines.
"We're going to do our part here and try this one more time," Byrne said. "So we need you to do yours."
Before the song's return was approved, Byrne and the athletic department met with 150 student organization presidents and all the block seating presidents asking for support in the new plan.
"Mr. Byrne was really wanting to bring it back," SGA President Price McGiffert said. "We wanted to figure out a way we could put the ball in the fans' and the students' court. If it's done right on Saturday, then we'll keep playing it, but if it's not then we know the real reason of why we will not have 'Dixieland Delight' in Bryant-Denny Stadium."
Since the song was banned in 2014, football players have also been asking for the song's return. One of the more notable campaigns was Reggie Ragland's efforts at the end of the 2015 season.
Ragland tweeted the day before his final home game asking to hear the song.
"I want to hear Dixieland delight one more time in bryant denny this weekend," the tweet read.
The tweet got 1,271 retweets and 1,603 likes, but the song still wasn't played.
"We have a lot of cool game-day traditions in Tuscaloosa, and our team really wants to bring this one back for good," running back Damien Harris said in the video.
After Byrne tweeted the video, current Alabama players Thomas Fletcher, Tua Tagovailoa and Mac Hereford, along with former players – notably OJ Howard and Alphonse Taylor – all took to Twitter announcing their support.
"I know we can do it right," Harris said in the video. "Remember to keep it clean, keep it classy when we play 'Dixieland Delight' in the fourth quarter at Bryant-Denny Stadium."
The song will be played on a game-by-game basis, meaning it can be taken away at any time.
"It's just such a tradition, and it gets all the students so excited," McGiffert said.